Likins set to launch extensive gift campaign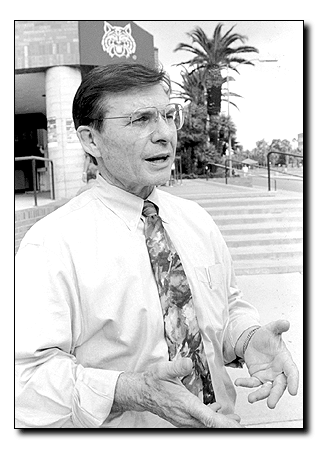 Wildcat File Photo
Arizona Daily Wildcat
UA President Peter Likins and other officials are preparing to launch a campaign to raise private funds for the University of Arizona. The campaign is the first of its kind since 1992, and will be formally launched in 2000.
UA President Peter Likins wants a heavier Christmas stocking for the University of Arizona this year.
Likins, along with several other UA officials, is spearheading a large-scale private funding campaign to increase monetary support for university programs.
"The quality of the university would be in jeopardy if we failed to raise the money needed to pay competitive faculty salaries and support our programs," Likins stated in an e-mail interview. "We will raise hundreds of millions of dollars, and our reputation will be enhanced in the process."
The Gift Campaign - formerly the Capital Campaign - is still in the planning stages, but will be officially announced next fall, said Dana Wier, vice president for communication and public affairs at the UA Foundation, an alumni organization.
"If we intend to remain in the top tier of public institutions, we need to stay competitive," said Wier, who is also directing all communications for the campaign. "We need to reach out to constituencies around the country."
Although no specific goals are set, the campaign hopes to provide a framework for private funding efforts around the university, Wier said.
"It takes several months to direct an institution like this," Wier said. "We're trying to iron out all the details."
Although several UA programs like the professional schools have secured private capital, Likins said the university as a whole has been inactive in seeking benefactors.
"We're now playing catch-up," he said. "I knew we would have to launch a campaign even before I came to Arizona."
A similar campaign was launched in 1987, and garnered $196 million - nearly twice its goal - by its conclusion in 1992, Wier said.
"The need for private funding is ever present," she said. "What we're trying to do now is fold it into a campaign that makes sense."
Wier said private capital is "meant to promote excellence," whereas government funding provides most of a university's support.
"There is a distinction between what is perceived as a state responsibility and the role of private funding," she added.
Likins said private donations are necessary for public universities.
"The combination of very low tuition and very slowly growing state allocations requires some other source of funds to keep the programs on the path to continuous improvement," he said.
The allocation of private funding is based on benefactors' decisions, Likins said, adding that some struggling programs - like the Management Information Systems department - are likely to receive money from the Gift Campaign.
"But this is not the reason we are having the campaign," he said.
Earlier this month, MIS department officials threatened to reduce advanced standing enrollment, citing low faculty numbers and inadequate funding as problems.
Lee Beach, vice dean of the Eller College of Business and Public Administration, said although the college does substantial fundraising on its own, the gift campaign would help programs like MIS.
"We use it (private funding) primarily to retain faculty," he said. "What's not to be excited about?"
James LaSalle, chairman of the MIS undergraduate curriculum committee, said the Gift Campaign "sounds exciting."
"It's tremendous (if) the university can find resources to fund the program," LaSalle said. "Any time we can look for university support ...that's wonderful."