Tailgaters soak in atmosphere before, after game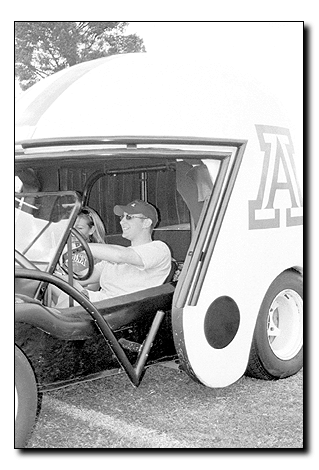 Wildcat File Photo
Arizona Daily Wildcat
Tom Janowitz and Laurie Wilder, the official Helmet Mobile drivers for the weekend, tour the tailgating parties yesterday on the UA Mall. The Helmet Mobile is the motorized equivalent of Wiblur and Wilma, encouraging school spirit at 20 mph.
Before every home football game, Gene Gonzales pulls into the same spot he's been parking at for the last 20 years.
Gonzales, a sergeant with the Tucson Police Department, spends the next few hours in front of the barbecue, cooking pounds and pounds of meat for the 50-75 people who will stop by and grab a pre-game meal.
"We have a different menu every game," Gonzales said. "Everybody pitches in, and all we ask is that they bring drinks and show up."
Despite construction on the east end of the UA Mall, pre-game tailgating continues to be a great UA football tradition. Volunteers begin letting people park five hours prior to kickoff, when cars and campers flood in for the pre-game festivities.
"People like the festive atmosphere and the fact that everybody's having a great time," said Tom Diday, a volunteer who overseas parking and tailgating. "It's great to see all these people coming back for Family Weekend. It's good to get the kids and their families out here, especially if they haven't done this type of thing before. It shows them a good time."
Local radio stations have large tents in which they play music and run promotions before the game. Carl's Jr., however, is the most popular tent - the fast-food restaurant gives out all the free hamburgers they can cook, so stop by early.
While the commercial tents may be the largest and give away the best things, it's usually the small groups of people who have the most fun. Many fans have been doing this for more than 20 years and don't expect to stop anytime soon.
Barbara Mitchell has been tailgating since 1956.
"The best part is being with friends, having a few drinks, listening to the band, just being here for the Wildcats mostly," she said.
While Arizona may not have the nationally known tailgating tradition or have large fields around the stadium, the fans who are out on the Mall are out to have a good time and make some noise.
Some even travel to away games, including Penn State earlier this season and Ohio State two years ago.
"The people at Penn State were nice before the game and gracious afterwards," Jan Flynn said. "They have more people who tailgate there, but Family Weekend and Homecoming are big here, and it's fun to see all the fans."
Fortunately, tomorrow's game against Oregon begins at 7:24 p.m., so fans will have plenty of time to get settled and won't have to worry too much about the heat.
"Last week (an afternoon game against USC) was a long, hot day," Bud Amuneson said. "Normally, we get here early, and for some games, they give us a choice. It'll be crowded, though, for Family Weekend."