Disabled access needed for club events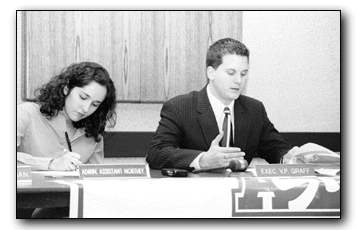 Arizona Daily Wildcat
Photo by: GAVIN STEVEN
Executive Vice President Ben Graff addresses the ASUA senate last night with a new amendment, while administrative assistant Kathleen Northey records the meeting. Graff's amendment on making clubs more accessible to disabled students was unanimously passed.
The ASUA Senate made an amendment Wednesday night to ensure that students with disabilities will be accommodated in events funded by the student government.
The new amendment, which passed unanimously, states that clubs must try to accommodate all UA students, regardless of age, sex, gender orientation, religious or political association or disability.
The change will take effect April 1, 2000, so the Associated Students Appropriations Board will have enough time to get the word out, said Ben Graff, ASUA executive vice president.
"It's for the appropriation board and clubs to be more aware and think of all students when they plan their events," Graff said. "Ninety-nine percent of the things we fund already consider this (disabilities)."
Graff decided to propose the changes to the funding criteria after he attended a conference and noticed that most Pacific 10 Conference schools required student government-funded events to be wheelchair accessible.
Now, when a club approaches the appropriation board for funding, officials must show how they will accommodate someone in a wheelchair or someone with a disability, Graff said.
Before the Senate voted, a few members voiced concern over how the amendment might hurt certain organizations.
Sen. Michael Dobbs said extreme sporting groups might be affected if they organized an event like rock climbing, which would be impossible to accommodate to a disabled person.
"Would they (the club) be penalized now because the nature of their event doesn't accommodate everyone?" Dobbs asked.
Graff said that the bylaw change is "only for awareness," and clubs will not be denied funding if their event cannot accommodate people with disabilities.
It is just a criteria for evaluating an event, Graff added.
He emphasized that the word "strives" was placed in the bylaw to indicate that the club has done everything possible to make their event accessible to everyone.
"I have no intention in making things harder for the clubs," Graff said. "I only want to make things fair for the entire student body."
Sen. Ryan Roa said the Senate had to make an amendment change to include disability because ASUA funded-activities - like retreats - that are not considered entertainment.
"This opens it up to everything that doesn't include entertainment," he added.
Graff added that if problems come up, the Senate has the power to change the amendment.