Rowdy McKale crowd propels UA to 92-85 win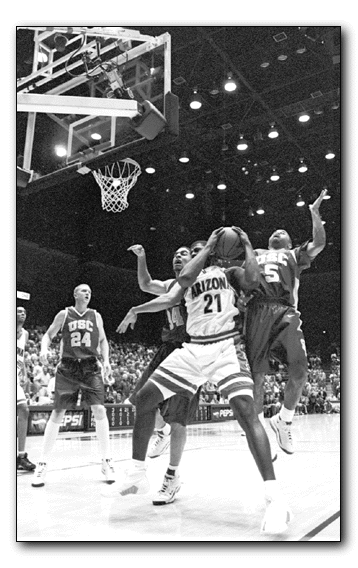 Eric M. Jukelevics
Arizona Daily Wildcat
Sophomore forward Michael Wright muscles his way to the hoop last night during Arizona's 92-85 victory against Southern California. Wright, who had just three points in the first UA-USC meeting, scored 20 points and pulled down 14 rebounds to lead the Wildcats.
The main topic all week for UA players had nothing to do with tired legs or the final stretch of the Pacific 10 Conference season - they complained about the lack of crowd noise at McKale Center.
Last night, however, a crowd of 14,531 stood on their feet and cheered for the entire game, propelling Arizona (22-4 overall, 11-1 in Pac-10) to a 92-85 victory over USC (13-10, 6-5).
"I loved them today," said freshman guard Gilbert Arenas, who led Arizona with 21 points. "If they can be like that every time, that would be great."
In defeating the Trojans, losers of their last four games and five of their last six, Arizona avenged its only conference loss to date.
USC forward Brian Scalabrine led all scorers with 28 points, despite playing in foul trouble for most of the game. Scalabrine recorded his third foul with three minutes left in the first half, and his fourth came midway through the second half.
UA sophomore forward Michael Wright, who was held to three points in the 80-72 loss to the Trojans on Jan. 22, had 20 points and 14 rebounds. Wright said he was more prepared to face the Trojans this time around.
"It's good to see Michael Wright get that aggressiveness back, that's his first double-double in a while," UA head coach Lute Olson said. "He was really pursuing the ball on the glass."
Arizona has brought out the best in USC both games this year. After 50-percent shooting in the first meeting, USC shot 64.3 percent in the first half to take a 43-39 lead at the half, but cooled off to 34.3 percent in the second.
Arizona had a comfortable nine-point lead late in the game, but USC would not go away, clawing back to 88-85 with 17.2 seconds remaining.
Freshman guard Jason Gardner, like he has so often this season, knocked down two free throws to make it 89-85. Wright finished off the win with a two-handed slam dunk as time expired.
Gardner broke out of a mini-slump with 19 points and eight rebounds. Arenas, Gardner's roommate, told Gardner that he was going to get "punched in the face" after the game if he didn't make at least three three-pointers against USC.
Gardner, who talked so much about the slump that it made Arenas sick, was 7-for-41 in the last five games, but shot 6-for-13 last night.
"It was just good to see one shot go in, I was more happy with that," Gardner said. "I just felt good after a couple went in, and I couldn't believe they did."
All five starters for Arizona played over 34 minutes, with Arenas and Gardner playing the entire game. Junior center Loren Woods had 17 points and eight rebounds in 36 minutes, despite playing through back spasms.
"My back's not 100-percent, it's not even close to 100-percent," Woods said. "But I've got to play. There's no excuses."
Redshirt freshman forward Luke Walton chipped in 13 points, having shot a career-high 15 field goals.
USC sophomore guard Brandon Granville, also playing in foul trouble, had 21 points. Junior guard Jeff Trepagnier had 20 points and 13 rebounds in the losing effort.