Women's hoops upset by Southern Cal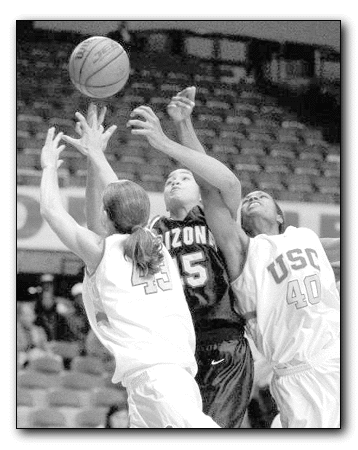 Associated Press
Arizona Daily Wildcat
Arizona's Elizabeth Pickney, center, fights for a rebound with Southern California's Danielle Golay, left, and Tiffany Washington during the first half Thursday, in Los Angeles.
The No. 15 Arizona women's basketball team was upset last night by unranked Southern California, 80-68.
USC was paced by five players in double figures, including team leader Tashara Carter with 14.
Arizona (20-4 overall, 9-3 Pacific 10 Conference) shot 38 percent from the floor in the first half and went into the locker room down 35-20.
Junior guard Reshea Bristol led the team with 18 points, while senior forward Angela Lackey added 16 off the bench.
The Trojans (10-11, 5-6) also got 10 points apiece from Danielle Golay, Tiffany Washington and Carmen Krause.
Arizona still leads Oregon and Stanford by one-half game in the Pac-10.
After last night's loss, the Wildcats will try to avoid being swept in Los Angeles and continue their run towards the Pac-10 title when they face UCLA tomorrow at 2 p.m.
The No. 24 Bruins (14-7, 8-3) need a win over the Wildcats to stay in contention, but that is not going to be easy, UA coaches and players said.
"We have a high powered offense that can score a lot of points and if we can combine that with good defense and good rebounding, we'll get by UCLA," senior guard Lisa Griffith said.
UCLA's defense dominated the Wildcats in the two team's last outing. The Bruins forced 23 Arizona turnovers and a season-low 35.3 percent shooting en route to a 79-68 victory for then-No. 12 ranked UCLA.
The Wildcats will have to deal with the wide array of Bruin offensive weapons. But UA head coach Joan Bonvicini said her squad's depth poses the same threat for UCLA.
"They've got (Maylana) Martin, (Michelle) Greco and (Janea) Hubbard, but they are going to have to deal with the same thing as us," Bonvicini said.