McCain visiting UA on eve of primary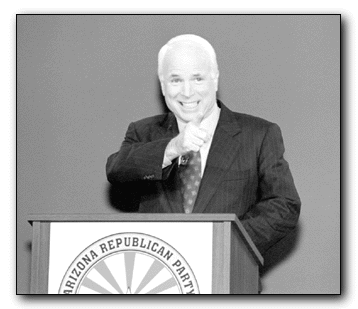 Aaron Farnsworth
Arizona Daily Wildcat
Arizona Sen. John McCain's campaign trail will bring him to Bear Down Gymnasium today at 9 p.m. Arizona's Republican primary is tomorrow.
As the race for the Republican nomination quickens its pace, John McCain returns to Arizona to speak and meet with students at the UA tonight.
McCain's rally is scheduled to begin at 9 p.m. at Bear Down Gymnasium.
Both Michigan and Arizona hold Republican primaries tomorrow.
The Arizona senator chose to speak at the University of Arizona as one of his last bits of campaigning before the primary.
"Part of his campaign is to bring young people back into the process," said Doug Cole, McCain 2000 spokesman. "That's why he's spent an awful lot of time on college campuses."
The UA was chosen over the other two state universities because of time constraints, Cole said.
In order to organize McCain's visit, his aides contacted the Associated Students of the University of Arizona. ASUA eagerly agreed to sponsor the event.
"It's really awesome, McCain's people called ASUA and asked us to sponsor it," said Cisco Aguilar, ASUA president. "If any candidate comes, ASUA will sponsor them."
McCain's visit has created a lot of excitement, said Seth Frantzman, president of the UA Young Republicans and a history and political science junior.
"McCain's big point is to reach out to students since students are the next leaders in this country," Frantzman said.
The Young Republicans have put up 300 flyers advertising the event and plan to be on the UA Mall today.
The announcement surprised some UA Democrats, said Amanda Piertrucha, nutrition sophomore and president of the UA Young Democrats.
"I was shocked," said Piertrucha. "I think it will arouse a lot of curiosity."
According to Frantzman, a crowd of about 1,000 students and faculty are expected to be in attendance.
McCain campaign aids also anticipate a large turnout.
"We expect a large crowd, that's why we chose Bear Down (Gymnasium)," Cole said.
McCain's momentum - stemming from his victory in the New Hampshire primary - slowed in South Carolina on Saturday, where he lost to Texas governor and Republican front-runner George W. Bush.
Bush garnered 53 percent of the vote, leaving both McCain - 42 percent- and Alan Keyes far back and adding new energy to his campaign.
McCain has said that he is confident that he will win Arizona but Gov. Jane Hull's support of Bush could pose a problem.
The effect these factors could have on student voters at the polls tomorrow could depend on McCain's performance tonight.
"This is a great opportunity for university students of all political persuasions to come out and hear some straight talk," Cole said. "I think they'll like it."
The Associated Press contributed to this report.