UA students turn out in support of McCain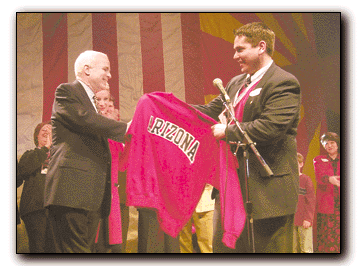 Arizona Daily Wildcat
Cameras, camcorders and enthusiastic cheers filled the interior of UA's Bear Down Gymnasium last night as thousands of people crowded in to get a glimpse of John McCain.
"I'm a little surprised at how the set up is with the music - I feel like I am at a concert rather than a political thing," said Ryann Lucas, University of Arizona accounting and finance junior.
Last night's rally for the Arizona senator and Republican presidential candidate was overrun by a bright array of colorful lights, loud rock music from bands like Prodigy and Beck as well as a live mariachi band.
"It's really exciting because students have a chance to see a presidential rally on campus," said Cisco Aguilar, Associated Students president. "They're really trying to cater to the younger crowd - this is totally for students."
Aguilar added that the last presidential candidate to campaign on campus was Robert Kennedy in 1967 when he visited the now-demolished Gallagher Theatre.
The stage's backdrop was draped with the American flag hanging beside the Arizona state flag. The gym was decorated with red, white and blue signs that read, "Go Johnny Go," "Veterans for McCain" and "Viva McCain."
University police reported about 5,000 people present. Of those, hundreds were locked outside before McCain's arrival because of space limitations.
"It's good that he came out to a college and got younger people involved in politics," said Shannel Lewis, undeclared freshman, adding that she feels America's youth are less inclined to be interested in political matters.
Many UA students said they felt a higher interest in McCain than his foremost competitor for Republican nomination, Texas Gov. George W. Bush.
Prior to the speech, many students said McCain's decision to campaign on the UA campus will give him the upper hand in Arizona's Republican primary election today.
"I am undecided but since he has come here I'm leaning more toward him," said Amanda Gates, business management and finance freshman.
Like Gates, optical engineering senior Andrew Sparks said McCain made a powerful statement in his rally by trying to enhance the visibility of youth in political matters.
"His personality is honest and he's given us what we want to hear," Sparks said.
McCain arrived with his wife, Cindy, an hour later than scheduled and spoke for nearly 10 minutes. Upon entering the gym, both walked down a long catwalk from the entrance to the stage, shaking eagerly extended hands and waving toward the screaming crowd of supporters.
"I thought his speech was great even though it was a long time waiting," said Carrie Crawford, history junior. "I think he was more real to me, he would make a better president because he has a stronger stand on the issues."
During his speech to UA students, Tucson community members and small children, McCain emphasized his pride in Arizona and its citizens, saying he would help lead the way for America's youth.
"I can motivate a generation of youth committed to themselves - that's what being president of the United States is about," McCain said.
Outside, about 20 protesters showed their disapproval of McCain with flyers noting his approval of an Accommodation Agreement in 1996 that "limits the number of livestock kept by the traditional peoples of Big Mountain/Black Mesa, Arizona."
This agreement, a release stated, forbids the community from gathering key elements for their spiritual and religious ceremonies which impedes their traditions.
The majority of McCain supporters inside Bear Down Gym, however, were unaware of the protest and the rally continued undisturbed.
McCain finished his speech saying, "I will always tell you the truth, no matter what," causing the room to erupt in a loud cheer followed by a shower of confetti.
"John McCain is a real American hero," said Jennifer Dannemiller, chemistry education senior. "He is someone we can look up to and he has a lot more character than Bush."
Dannemiller said she has been following the campaigns of both presidential candidates and feels McCain is more true to his word than Bush.
"He's not trying to sell his presidency," said Dannemiller of McCain. "He has a vision for this country."