UA hosts celebration for underprivileged students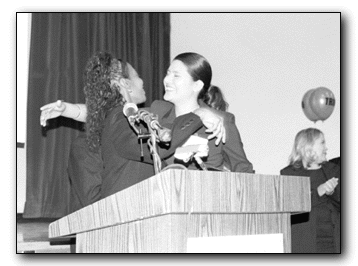 Matt Capowski
Arizona Daily Wildcat
Rhonda Moses, director of Student Services Student Enrichment Program congratulates UA student honoree Liz Rangel Saturday at Arizona's first TRIO Day held in the Arizona Ballroom. Rangel was one of five UA students to be recognized for providing peer advising and assistance through the student support services program.
Five UA students were honored on Saturday for their hard work and dedication with low-income, first generation and disabled students at Arizona's first annual TRIO Day.
TRIO is a federally funded program run through the University of Arizona's Student Enrichment Program to increase the retention and graduation rates of eligible students.
The five members of the TRIO Day Committee - Irene Alvarez, Jennifer Harvey, Judy Marquez, Paula Pfeifer and Liz Rangel - were recognized for providing peer advising and assistance through the student support services program.
"It's really important to recognize the students who help better the education of others, and it was very nice that I received this honor," said Rangel, who serves as the assistant director of student support services.
About 250 Arizona students attended the event, representing the state's colleges and universities, as well as some high schools.
Arizona has never taken part in National TRIO Day, which will be held Friday, so a proclamation commemorating Saturday as the Regional TRIO Day in Arizona was read by Sharon Collins, director of Gov. Jane Hull's Southern Arizona office.
Luis Ibarra, president and CEO of The Friendly House - a community-based organization - delivered the keynote address, speaking about his experiences with low-income and minority students.
Rhonda Moses, director of student support services, said the UA TRIO Day Committee has worked since August on the program.
"In addition to receiving a plaque, we are hoping to have the pictures of the honorees published in the National TRIO magazine," Moses said.
Moses said many people think the TRIO program was designed for students not capable of succeeding, but she disagrees.
"There are 365 (UA) students enrolled in our program, and 100 of them have a 3.5 or above grade point average," Moses said.
The programs, which are funded by the U.S. Department of Education, were initially called TRIO because there were three programs focusing on high school and college students.
TRIO has since expanded to six programs, which include Talent Search - a program that assists students from disadvantaged backgrounds who have the potential to succeed in higher education - as well as the McNair Achievement Program, which prepares students who hope to continue in doctorate studies.
Both programs exist at UA, Moses said.
"Because of its good outcome, we expect more TRIO Days for the future of Arizona," Rangel said.
TRIO offers peer advising, computer lab access, tutoring and educational research resources at its UA office, 1031 N. Mountain Ave.