UA softball team hosts defending NAIA champions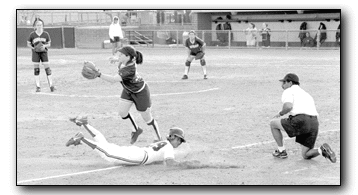 Eric M. Jukelevics
Arizona Daily Wildcat
Senior outfielder Chrissy Gil slides safely into third base against Penn State in last weekend's Wildcat Softball Classic. Arizona takes on Simon Fraser today at 3 p.m., at Rita Hillenbrand Memorial Stadium.
UA softball head coach Mike Candrea will do just about anything to find early season competition, even if it means scheduling a foreign team.
The No. 4 Wildcats face their only international challenge of the year this afternoon in Simon Fraser of British Columbia, Canada.
"I haven't heard anything about them, I have just heard a little bit that they are from Canada," sophomore first baseman/pitcher Jennie Finch said. "Coach said, 'Let's stick it to them.'"
The Clan is the defending NAIA National Champions and the only varsity softball team in Canada.
Simon Fraser is led by senior second baseman Lindsey Brooks, who was a member of the NAIA National Championship All-Tournament Team last year.
"They are like any other team, we have to play hard, and we have to work our hardest," junior catcher Lindsey Collins said, "Every game is a step forward, we are not taking any steps back, we have to work harder and harder."
Arizona, which has a 13-1 record and a 12-game win streak, will use the Simon Fraser matchup as a chance to stay fresh before heading to Tuscaloosa, Ala. this weekend for the 2000 'Bama Bash.
Junior outfielder Nicole Giordano leads UA in hitting with a .550 batting average to go along with her 15 runs and seven RBI.
Providing the power for the Wildcats are junior shortstop Allison Andrade and Finch.
Andrade has a .432 batting average with three homers and 18 RBI while Finch has a team-leading seven home runs and 22 RBI, in addition to her .460 batting average.
"If we just keep playing the way we are, hitting the ball and staying confident and staying positive, I think that's huge," senior outfielder Chrissy Gil said. "This year we are all trying to stay together and be confident and be positive."
Junior pitcher Becky Lemke will likely do the pitching for Arizona against the Clan.
Lemke has an 8-1 record with a 0.93 ERA, including 62 strike outs in 54 innings of work.
The game will take place at Rita Hillenbrand Memorial Stadium at 3 p.m.