ASUA: politics as usual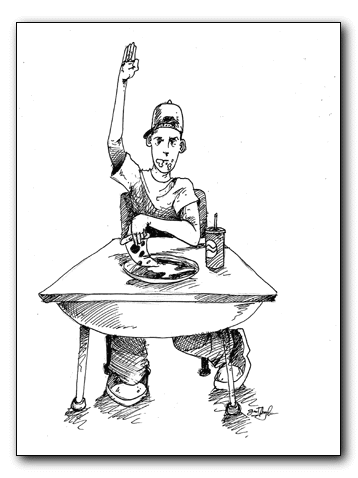 Arizona Daily Wildcat
In a cramped room in Modern Languages, a group of candidates wait in line for their turn to speak to the UA Young Republicans, one of the many campus groups receiving visits from ASUA hopefuls. The candidates are visibly bored, but when their turns finally come, however, each breaks into an enthusiastic spiel about how voting for them can better the UA campus.
Ty Trujillo, ASUA presidential candidate, uses the scare tactic to get his audience's attention.
"If you don't like ASUA, guess what, you have no say in changing it," Trujillo warns.
Such a traditional political tactic Trujillo uses, slamming the same governing body he wants to be a part of, just like any good candidate for the U.S. Congress.
Trujillo proceeds to convince the group that his plans to improve the campus are better than his opponents. He presents good ideas, such as a Finish in Four Scholarship and Online Voting.
But he finishes by claiming that ASUA has no accountability. Trujillo, of course, can change this.
It's ASUA politics as usual.
The elections may be dinky campus events in which few students take interest, but they are the making of future politicians. The student campaigns taking place on campus for the next few weeks are strikingly similar to the political races on the national scene.
Candidates' flyers are peppered all over campus. They spout slogans and platforms, They abide by spending and campaign contribution limits.
And they make campaign stops.
Unlike the loud and lighted fanfare that Arizona Senator John McCain received on Feb. 21, ASUA candidates get used to speaking to blase baseball-cap wearing students eating Dominos in tiny rooms all over campus.
But Arizona's scrappy, reforming Presidential contender has plenty of aspiring politicians emulating his campaign style.
Take a look at ASUA Senate candidate Gino Duran.
A political science and sociology junior, as well as a former ASU student, he claims to be running an "independent," anti-establishment campaign, free of the dirty campus special interests surrounding most ASUA candidates.
"McCain and I are alike because we both have independent voices," Duran said. "Just like the Republican establishment is scared by McCain because he's running such a different campaign, the ASUA establishment doesn't expect someone to run a campaign like I am."
Duran's campaign focuses on helping independent working students, the alternative students that the university doesn't recognize.
He himself is a full-time student, holding down a 30-40 hour per week job with a private investigating firm. Duran, clearly a serious candidate, took a week off from his demanding job to focus on his ASUA campaign.
When speaking to the Young Republicans, Duran emphatically pushes his platform. Parsing his speech reflects how similar Duran is to McCain.
"This university doesn't recognize that most don't have traditional lifestyles, but we're too busy working and studying and commuting to sit and whine," Duran plays to his pizza-eating audience.
Not unlike McCain's claim that Washington does not take all working individuals seriously.
Duran continues, "I have no allegiance to any club, only to independent working students," a claim identical to McCain distancing himself from Washington's despicable special interest groups.
Duran finishes his speech saying, "If you're sick and tired of struggling and wondering how to pay the rent and make the grades, vote for me."
A nearly perfect adoption of McCain's promise to change politics as usual. This antiquated promise proves, ironically, that politics as usual will never go away.
But ASUA politics as usual also has a dirty side. Candidates smile at each other and shake hands, then let the criticism fly when the other is out of earshot.
After the candidates speak, Seth Frantzman, president of the Young Republicans and also a candidate for ASUA Senate, criticizes ASUA vice president and presidential candidate Ben Graff.
"Ben has done nothing all year," Frantzman claims. "He's talked about advising, but nothing has happened. I mean, (Ben's) a good guy, but he's not that active. (In ASUA), they are not as active as they claim to be."
Yep, it's ASUA politics as usual. Sadly, it's much too similar to national politics as usual.
All the UA student body can do is vote on Feb. 29, and hope that beyond the campaign stops and schmoozing, the slogans and rhetoric, there is a real plan from honest candidates who want more than just a political career.