Teachers give UA students glimpse of personal artwork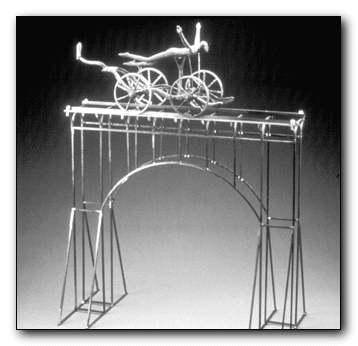 Arizona Daily Wildcat
Photo courtesy of Julie Sasse Frank Sheriff's "Flying Man" is one of the works presented at the Joseph Gross Gallery. The show, "Here and Now 2000," is a collection of works by University of Arizona art teachers.
The Arizona Daily Wildcat
As part of a temporary teaching art program that allows artists to conduct classes, five UA artists will be displaying their work at the Joseph Gross Gallery in a show titled "Here and Now 2000."
The gallery, which opened yesterday and is free to the public, was designed to give students a different learning experience.
One of the teachers, Frank Sheriff, said he enjoys working this way.
"I prefer being a visiting artist because it's nice to travel and to be able to expand the circle of people I work with. It's also inspiring to travel," he said. "If you are in one place too long, you can lose your inspiration."
Sheriff primarily works with cast iron and incorporates influences such as religion. Growing up around Buddhist and Christian themes as well as teaching abroad in Italy during the late 1980s had an strong impact on his work.
Sheriff said some of his art is referred to as "shamanistic household appliances." This particular art work included a karma blender and a waffle iron with crosses inserted in the squares.
In the current show Sheriff has one large cast iron piece titled, "Flying Man."
"This piece is kinetic interactive which means as you move one piece, other parts are activated," Sheriff said.
This semester Sheriff is teaching three classes: metal casting, beginning sculpture and 3-D concepts.
Laura Griffith, an artist from Seattle, taught last semester and also works with cast iron. Using recycled iron, Griffith incorporates dualism in her sculpture. There are two pieces of her work on display.
There are also mixed media pieces by Melanie Yazzie, who combines images from books, maps, postcards along with photographs of her own Navajo family. The combination of the elements creates a sense of the reality of Native Americans.
"Here and Now 2000" will be held in the Joseph Gross Gallery, located at the corner of Speedway and Park.
Frank Sheriff will be giving a slide lecture about his work on March 23 at 5 p.m.