Filling in the holes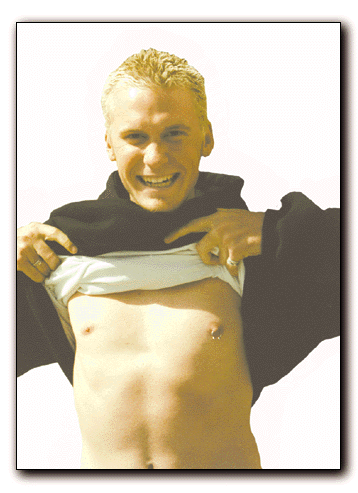 Randy Metcalf
Arizona Daily Wildcat
Tim Keef, a sophmore English student, displays his nipple piercings. Some local body artists say they have seen an increase in UA students asking for piercings.
Throughout the nation, body piercing has become an increasingly popular form of expression ¸ and students on the UA campus are no exception.
"I love the experience of piercings," said Tamale Sepp, agricultural education and agriculture technology management senior. "You get the anxiety before, then the moment of, and the release afterwards, which outweighs the brief second of a painful pinch."
Sepp has 39 piercings, including two surface, three tongue and 16 piercings that she "will leave up to the imagination."
Some feel this personal expression is an important cornerstone of living independently ¸ without seeking the approval of family.
"My parents said they'd take me off their health insurance if I ever got a body piercing or another facial piercing," said dance freshman Karlyn Griswold. "They don't know about my belly ring."
Sepp agreed, saying her parents will never understand the fascination with the art.
"Piercings still horrify (my parents), and they don't even know about half of it," Sepp said. "It's a generation thing."
While piercing is not a new topic around university campuses, it is gaining acceptance as a method of individual expression.
Virginia Spiller, a body artist at Modern Art Tattoo, 4138 E. Grant Rd., has seen a steady increase in University of Arizona students asking for body piercings.
"Piercings have continued to be more popular lately, but it's not necessarily a trend," she said. "People do what they do in this business. Genitalia, stretching and surface piercings are all normal when it comes to personal expression."
A hardcore attitude is a societal stereotype attributed to some pierced young adults but is not considered accurate by some UA students.
Psychology freshman Brianna Robinson said she was not trying to be hardcore when she got her tongue pierced.
"My parents never wanted the piercing," she said. "So, the first week I got here, I did the rebellious thing and pierced my tongue."
Sepp agreed, adding that she is often misunderstood because of her piercings.
"For me, the meaning of hard-core is ╬fanatically dedicated,'" she said. "I am an honors senior with a 3.4 grade point average, so I think I am a hardcore student. There's no half-ass thing about me."
With its popularity has also come criticism and intolerance for piercings. As piercings become more mainstream, there is an increased number of critics who do not understand the appeal and, therefore, denounce the practice.
Sepp said she is confronted with this opposition everyday.
"People think I'm so ignorant, when they judge me," said Sepp. "Every time I go into a store, (the employees) think I'm going to shoplift. This is an attack on my integrity."
Some students opt for countless piercings, while others are content with just a few.
After Johnson got her 13th piercing, she was satisfied with the end result and decided to stop.
"I'm done," she said. "I don't want to be a walking piece of metal."
Sepp, however, "has a lot of stuff planned" for her next piercings. Some might wonder where the 40th piercing can go, but Sepp said there is always something to pierce.
"My favorite response of people's reactions to my piercings is, ╬I didn't even know it was possible to get that pierced,'" said Sepp.
Despite cynicism, students who take part in it say piercing will continue to gain acceptance.
"I think it's a really good experience," Sepp said. "If you have a desire, you should definitely do it."