Course gives engineers business training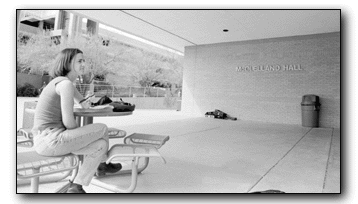 Matt Capowski
Arizona Daily Wildcat
Business management senior Emmy Locascio studies in front of McClelland Hall yesterday afternoon. She will be starting her master's degree in electrical engineering next year.
A new class is looking to make engineering students more business-minded, but some students say they're worried about stretching the business college's resources.
Several weeks ago, Tom Peterson, dean of the College of Engineering and Mines, visited 16 classes to encourage engineering students to enroll in a new week-long evening class - MAP 478 - a Management and Policy business course focused on entrepreneurial endeavors.
The course is outside of the traditional engineering curriculum, which is very structured and leaves little room for electives.
But some business students have raised concerns about future plans.
The Eller College of Business and Public Administration last year announced it was cutting back on the number of majors in order to accommodate students already in the program.
"The business school just started their competitive entering into the college, where you have to do better than a number of other people," said Emmy Locascio, a business management senior. "Before they take on something else they should try to accommodate them."
"Right now, I have nothing against the theory. But in practice, the business college has nowhere near the capacity to educate all of its own students," said Jeff DeVille, a management information systems senior.
But Mark Zupan, dean of the Eller college, said he is aware of his students' concerns.
"This class is being offered separately from other business courses. You don't have to be in the business college to take it, so no," he said in response to whether MAP 478 would stretch resources for the business college.
If a joint program were eventually developed, the University of Arizona would be one of a select few schools with such options.
The course might be an indication of the business and engineering schools' desire to cooperate on a joint program of study in the future, Zupan said.
"A couple of other programs have a management and technology option, such as MIT and Stanford. However, it's still fairly rare," he said. "If we can make this work it will be something to be very proud of."
"We've talked with Dean Peterson about developing a management technology program where students can learn about both management basics and technology issues," Zupan said.
Engineering students have expressed excitement about the new course.
Bonnie Au Yeung, an industrial engineering senior, enrolled in the course hoping to prepare for an master's in business administration or at least to learn something new.
"I think its helpful that engineering and business are working together on a course," she said. "I'm hoping to understand better when I get to the real world the business aspects of engineering, especially in IE. I'm taking a lot of units this semester and I'll be skipping some class to make it (MAP 478), but it's worth it."
Peterson has plans to further cooperation between the business and engineering programs.
"This course offering is an element of a number of things we are planning to do with BPA," Peterson said. "All are focused on the combination of technical experience with a business background."
Peterson said he believes the class would benefit engineering students by allowing them to be more familiar with industry before graduation.
"The big advantage is to have engineering students here know how important it is to have exposure to basic business practices," Peterson said. "Engineers need to know how to interact with non-engineering backgrounds; how to read a fact sheet or a financial statement, for example."
Business and engineering students have mounted a huge response to the offering, Zupan said.
"We have about 115 students enrolled right now," he added. "We anticipated around 25 to 30; the response has been just overwhelming from both engineering and business majors."