Southern California punks bring fast rock to the Cellar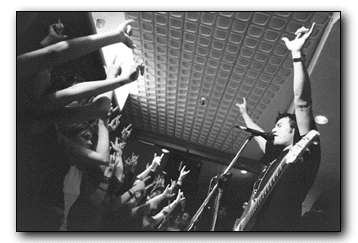 Arizona Daily Wildcat
Photo by: DANIEL KEMPNER
FenixTx guitarist Willie Fenix gets the crowd going last night in the Cellar. The pop-punk group that was originally formed in Houston in 1995, relocated to San Diego and has played with such biag names as Duran Duran.
San Diego-based band FenixTx may not be UA recruiting counselors, but they nonetheless managed to bring lots of high school students to campus last night.
The pop-punkers played to a sold out crowd of 240, largely composed of high school students and young University of Arizona students, in the Cellar of the Memorial Student Union.
As soon as FenixTx took the stage, the crowd became frenzied - screaming and bouncing up and down.
Lead singer Willie Fenix started the show by exhorting the crowd to "get as naked as you can," and the band launched into song after song from their recent release FenixTx.
Audience response was so positive that at the end of the first song, Fenix told the crowd "this has been the best show ever... so far."
The band played a 90-minute set of fast, relentless poppy punk, thrilling the crowd and inspiring a near mania that pervaded the Cellar. At one point, nearly the entire crowd was embroiled in a raging mosh pit - moments after four girls danced onto the stage and removed their shirts.
FenixTx played many originals, though they also integrated some surprising covers into the set, including songs by the Pixies, Face to Face, Blind Melon, the Cure and Duran Duran.
Fenix even snuck a few lines from Ricky Martin's smash "Livin' la Vida Loca" into one song.
"I liked the covers. The Face to Face song was awesome," praised mathematics freshman Brian Ellexson.
Crowd response was mostly positive.
"It rocked!" said communications sophomore Susan Podshadly.
The band was pleased by the show as well.
"This show was great," said guitarist Damon Delapaz.
FenixTx has no more shows immediately planned for Tucson, as they are shortly embarking on a European tour. They hope to return to Tucson later in the summer, though.
"We'll come through here again if we tour with Blink 182 and Bad Religion," Delapaz said. "We don't know if that (tour) is going to happen or not yet, but if it does, we'll definitely come back through here."
The show also featured Houston-based pop-punk trio Thanx but No Thanx. The other scheduled opening band, Assorted Jellybeans, failed to show.
Thanx but No Thanx got the crowd excited with their 40-minute set, during which they both played fast, catchy punk songs and called up a male audience member to do a striptease.