Three bands kick off AZ Jazz week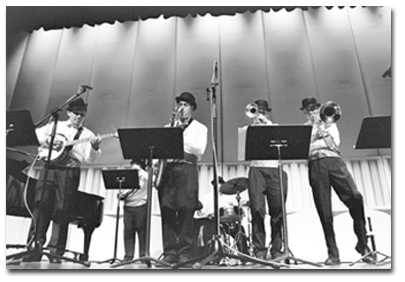 Aaron Farnsworth
Arizona Daily Wildcat
The Nogales Jazz Band performed at Crowder Hall yesterday. The Nogales group kicks off the Arizona Jazz Week here at the UA.
AZ Jazz Week started in style yesterday with three bands taking the stage and entertaining audience members with a musical throwback to the 1920s.
The inaugural show, which began at 3 p.m. in the University of ArizonaCrowder Performance Hall, featured the Borderline 7 Dixieland "Jass" Band, the Olive Street Stompers and Jazzberry Jam, each playing a set of Dixieland jazz music.
The Borderline 7, from Nogales High School in Nogales, AZ, took the stage - dressed in black bowler hats and red bow ties - and launched into Jellyroll Morton's "The Chat."
In traditional Dixieland style, the band played one chorus together, then each member took a turn soloing over a chorus.
Though the seven members of the band are young - aged 15 to 17- they played with great facility and enthusiasm. Tenor saxophonist Jason Urman, who has been chosen for lead alto sax in the Arizona All-State Jazz Band, was the dominant player and amazed the audience with his smooth solos.
Sousaphonist David Hernandez lent his prodigious vocal talents to Louis Armstrong's classic "Hello Dolly," earning cheers and applause from the crowd.
The Borderline 7 earned the afternoon's only standing ovation upon the finish of their seven-song set.
"They are fantastic. What (Nogales HS music director) Ken Tittelbaugh has done there is remarkable," said Jeff Haskell, AZ Jazz Week founder.
The Olive Street Stompers followed, playing a three-song set which also included a Louis Armstrong composition. The six-piece band was formed in 1982, and features current UA students. Their set was short but well-received.
The final band was Jazzberry Jam, a group founded on the UA campus in 1978. This older, more experienced band played with a precision outshining either of the younger ensembles.
While Haskell played piano for the group, trombone player Tom Ervin anchored its onstage presence. Trumpet player Walt St. Pierre added vocals to yet another Louis Armstrong cover, perfectly mimicking the jazz great's vocal sound and style, complete with scat singing.
"Hold on to your pacemakers," Haskell jokingly told the crowd of mostly senior citizens. The band then plunged into their finale, the crowd-requested Jellyroll Morton composition "Tiger Rag."
All three bands then took the stage simultaneously for a rousing big-band style rendition of "When the Saints Go Marching In," each musician taking a solo chorus.
The performance was the first of the AZ Jazz Week. Performances will run nightly through Thursday at the Crowder Performance Hall.