Community forum aims to stop hate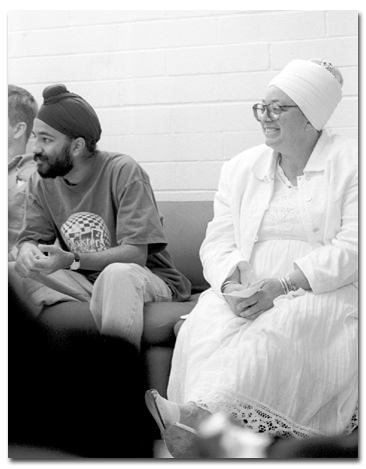 Randy Metcalf
Arizona Daily Wildcat
President of Religious Awareness And Diversity Sat Bir Kaur Khalsa, right, and sociology junior Sonny Suchdev discuss ways to prevent hate crimes in the Dr. Martin Luther King Jr. Center yesterday afternoon. Around 20 people were in attendance to speak their opinions about the recent increase in racism and violence.
In an effort to prevent religious and sexual hate crimes, about 20 UA community members met yesterday to share stories, questions and solutions to racism and violence.
Sat Bir Kaur Khalsa, president of UA Religious Awareness and Diversity, began planning the hate crime prevention panel in November after working with various groups on campus for RAAD week last fall.
"This (the forum) wasn't planned because of the Fourth Avenue stabbing, however the attack mobilized our community," Khalsa said.
Khalsa said she has been a victim of racism and verbal abuse because of the clothing she wears, which represents the Sikh religion.
She said she wanted to raise the awareness of all the problems of racism in our society, and to bring in individuals from diverse groups.
"I am pleased that we had a very powerful group of people in attendance," Khalsa said.
Many gay students expressed their concerns with the most recent hate crime to hit the gay community - the stabbing of a student outside a Fourth Avenue coffee shop - and praised the Feb. 13 march that followed.
"I am proud of the march because we were finally able to stand up for the way we feel," said Keith Gawronski, an anthropology senior.
Sociology junior Sonny Suchdev, president of Beyond Tolerance - a club on campus that discusses racism - helped moderate the talk, along with Matt Helm, Residence Life coordinator for multicultural education.
"I feel very passionate about these issues regarding racism," Suchdev said.
Helm said he meets with the residence hall directors and resident assistants to advise them on creating inclusive communities within the dorms at least twice a year.
Khalsa said everyone who attended the panel would like to meet again.
"We exchanged e-mail addresses to stay in contact so that we can continue trying to prevent hate crimes," Khalsa said.
Representatives from several UA clubs and organizations participated in yesterday's panel, held in the Dr. Martin Luther King Jr. Student Center, 1322 E. First St.
Participating groups included the Center for Disability Related Resources, Hillel Foundation, Wingspan Community Center, Oasis Center for Sexual Assault and Relationship Violence, Chicano/Hispano Student Affairs and Asian Pacific American Student Affairs.