Bonvicini finalist for Coach of the Year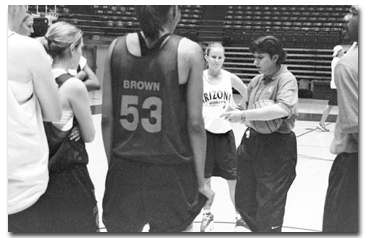 Matt Capowski
Arizona Daily Wildcat
UA women's basketball head coach Joan Bonvicini huddles with her players at practice earlier in the season. Bonvicini is in her ninth season at Arizona and has a 155-103 record with the school.
UA women's basketball head coach Joan Bonvicini was named Sunday as one of 15 finalists for the Naismith College Basketball Coach of the Year Award, but she chalked it up to merely being a reflection of her players and assistant coaches.
Under Bonvicini this season, the Wildcats are off to their best start in school history (21-5 overall, 10-4 Pacific 10) and are currently No. 16 in the coaches' poll.
"It is a great honor, but I am all about the team," Bonvicini said. "That is not about me, it is about the team and shows that we have worked hard and are going to continue to do so. It is an honor for everyone around me."
Senior guard Lisa Griffith hailed Bonvicini's nomination as recognition that could have easily gone unnoticed.
"You cannot do anything alone," Griffith said. "We have talent and a bunch of different personalities and our coach is what brings it all together. This is certainly a reflection of that.
"I hope she does get it because she is a good coach and she has done a great job with us this year," Griffith said. "She tries to continue to work with us and make us better every game and she definitely deserves it."
Bonvicini is in her ninth year at Arizona and has a .600 winning percentage (155-103). Before she took over the program in the 1991-92 season, Arizona notched a 6-25 record, including a 1-17 mark in Pac-10 action in 1990-91.
Prior to Bonvicini, the Wildcats recorded only four winning seasons in the 19 year history of UA women's basketball. After coming to Tucson, Bonvicini guided the Wildcats to a winning season in only her third season at Arizona (15-12 in 1993-94).
Griffith added that she hopes the nomination will further establish Arizona as a national contender in women's basketball.
"The teams that get the most press nationally are Tennessee and traditional programs that have been great for a while," Griffith said. "Arizona has been coming up and doing better each year, so we deserve this (national attention) and it will help us in the long run with recruits. It just shows how far she has brought the program."
Bonvicini was the recipient of the NCAA Division I Coach of the Year in 1981 when she led Long Beach State to a 27-2 record and to the AIAW East Sectional Finals. She was also nominated for the Naismith Award in 1998 when she led the Wildcats to a 23-7 record and into the Sweet 16.