The Glass Menagerie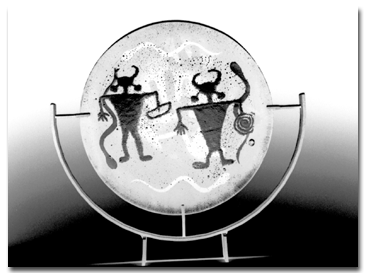 Arizona Daily Wildcat
photo courtesy of Philabaum Glass Gallery Leah Wingfield's "Tango" suggests the passion of an internal relationship. Wingfield's work is part of an eclectic show at Philabaum Contemporary Art, 711 S. Sixth Ave.
Minimal Cubist sculpture sits naturally beside classical figurative work and more abstract expressionist work in "Cast of Character," the current exhibit at Philabaum's Contemporary Art, 711 S. Sixth Ave.
To step into the gallery is to step into a room where the different styles and ideologies of past and present sculpture commune gracefully.
The talent exhibited ranges from Henner Schroder's sculptures - which rely on ancient images of lost cultures to comment on current social issues - to Rick Beck's figurative glass thumbscrews that synthesize the mechanical and human.
Leah Wingfield's works combine her interest in music and the customs of other cultures. Her current display features Tango dancers whose bodies intertwine in a moment of physical and metaphysical connections.
Her work's external grace suggest the passion of an internal relationship. These moments of intimacy reflect upon the broader narrative of idealized romance.
The "Tango" becomes a metaphor for that specific moment when the separate desires of a couple fuse into a fluid expression of passion.
Washington-based artist Kelly Mclain's sculptures are somewhat more humorous. In "Smoke," a stylized feminine figure smokes a cigarette while several cigarettes burn out of the figure's brain.
Mclain's work emphasizes the surreal and the unexpected.
"Watching the Watchers" presents a silhouette of a figure filled with floating blue eyes. The liquid fluidity of the eyes appear like broken fish eggs. The work provides an unsettling commentary on a voyeuristic society at an internal level.
The Tucson art community is also well-represented.
Jon Clements imbeds his stylized glass faces into native mesquite torsos and bodies. The materials give the works a sense of location in the southwest desert. In Clements' version, the body may come from dust but returns to glass.
"Emerald Oooo Man" shows Clements' ability to give an expression and even a personality to a figure with only two lines.
The elegant glass sculptures in this exhibit dramatize light and shadow, weight and fragility, presenting objects that only light can penetrate.
Next to one glass sculpture the sign is posted, "Please Resist the Urge to Touch."
Indeed, this may turn out to be a difficult rule to follow.