2 men living like boys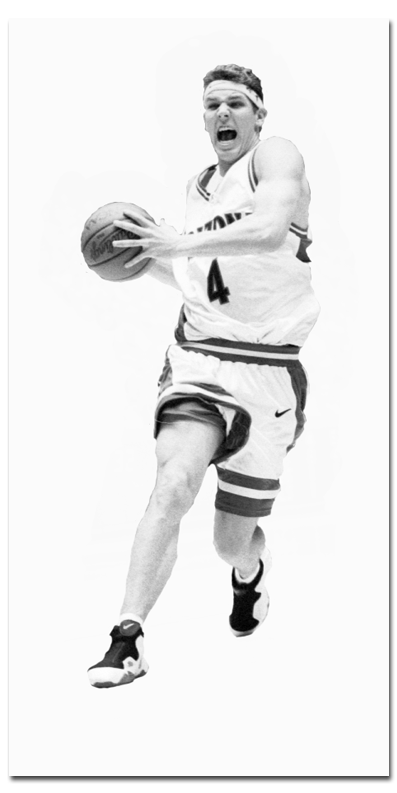 Arizona Daily Wildcat
After being involved in the UA men's basketball program for two years, a boy has every opportunity to evolve into a man.
That is the way head coach Lute Olson wants it. Olson knows it is a hard transition from high school to college, but he doesn't allow his players to joke around. He disciplines them, makes them mature adults, true definitions of student athletes.
However, there are exceptions - sometimes bad, sometimes good.
For the past two years, Olson has not seen any problems with two of his exceptions - sophomore swing forward Richard Jefferson and redshirt freshman forward Luke Walton.
Walton and Jefferson come from two extremely different backgrounds.
Walton, who hails from San Diego, comes from a family of basketball players, while Jefferson, a native of Phoenix, is the son of two missionaries who brought their son on most of their travels around the world.
So, judging by the histories of these two teammates, it is odd to think they would be best of friends. But, perhaps the two most social players on the men's basketball team are, in fact, a perfect fit to live together.
Last year it was the La Paz Residence Hall and this year they have graced the brand new Jefferson Commons.
"The 'JC' is a social enough atmosphere that you don't have to leave your house," Jefferson said. "In the dorms, it was fun, it served its purpose for a while and then we moved to JC this year. We keep joking on how we are going to dominate everywhere we go and then move on. We are not going to live in the Jefferson Commons next year, but wherever we do decide to live, we are going to dominate there and move on."
Jefferson has always been known as the more outspoken of the two, but he says sometimes he and other people just love to hear Walton speak.
"He is definitely quiet, he can't stand when people talk about his dad, but woman love his voice, they really dig it," he said. "They love to hear him talk on the phone, but he hates talking on the phone."
Famous Father
That dad that Jefferson speaks of is the great Bill Walton, a current NBC basketball announcer and former UCLA basketball great. The elder Walton went onto play in the NBA with the Portland Trailblazers, Los Angeles Clippers and then finally with the Boston Celtics.
The elder Walton was on hand at the Arizona-UCLA game at Pauley Pavilion on Jan. 20 and he saw his son's team defeat his alma-mater, 76-61.
Despite the win, the basketball legend doesn't mind teasing the two roommates before the Bruins and Wildcats meet on the hardwood floor.
"His dad calls all the time before we play UCLA and he leaves a message saying, 'Don't be nervous that you are playing UCLA, whatever they do can be permanent damage,'" Jefferson said. "He is still an icon, he is one of the greatest basketball players ever. Just being around Luke, I get to hear stories about how great of a player his dad actually was."
Similar Injuries
Walton and Jefferson are not only alike on the court and off the court, but with the injuries they suffer as well.
During the early November practice season of 1998, Walton suffered an injury he is all too familiar with - a stress fracture in his right foot, the same injury that plagued his father.
He was forced to medical redshirt the season and was in a hard cast for four weeks and a walking cast for another four weeks.
While Walton was on the bench in street clothes, Jefferson was making a name for himself on the basketball court, averaging 11.3 points, 4.8 rebounds and 2.9 assists per game.
The two would finally get the chance to play together this season. That, though, only lasted until Jan. 8 at Stanford when Jefferson went down with a fractured right foot - an injury similar to the one Walton suffered the year before.
"His mom and his dad call and say I am officially a Walton boy now," Jefferson said. "They give me a little trash, but both his mom and dad help me. I was there for Luke last year, so I am glad he is there for me this year."
With Jefferson out of the rotation, Walton was left in the starting lineup. This time it was Jefferson in street clothes cheering on the Wildcats, and Walton jumping out of the shadow of his father and making a name for himself in the college basketball world.
Walton has started 13 games in place of Jefferson, but struggled through the first four. That struggle turned around at Arizona State on Jan. 26 when Walton scored a then career-high 10 points. Since that game, Walton has been a success story with numbers similar to Jefferson's from a year ago. He is scoring 11.3 points, handing out 5.5 assists and pulling down 4.5 rebounds per game.
"I have always felt like I still have to do this, improve this, but right now I just feel comfortable in what I am doing and what my teammates feel in me. I am having fun right now," Walton said. "He (Jefferson) has been helping me. There have been times when I have been struggling out there and he's been through it already. Last year, he went through all that same stuff, the inconsistencies, so he has been great throughout the whole thing."
Tomorrow night will mark the return of Jefferson into the rotation, and Walton said if he deserves the starting job back, he has no problems conceding it to him.
"Whatever happens, happens. As long as we're winning, that is all that matters," he said. "If he comes back and he is ready to get back in there, than he deserves to start. It was his position earlier in the year so we don't even argue about that. We are going to be deeper than we have been, we'll be able to rotate more. I think we are playing great now and when we get him back, I think it is going to be scary."
Olson, though, says it is almost impossible to take Walton out of the lineup just because Jefferson is returning.
"Luke is doing a great job and Luke is there until somebody can move him out of there," he said. "But it is obvious that we need to have both of those guys playing well."
Opposites Attract
While Jefferson is loud, enjoys the spotlight and loves to take the ball to the rim and dunk on anybody, Walton is soft-spoken, avoids the spotlight due to his father's fame and would rather dish out the assist than score the bucket.
So, how do these two get along?
They have similar goals and similar lifestyles, which in turn makes the dissimilar style of play on the court seem secondary.
"I met him at Nike Camp and then I met him at an all-star game in high school, but when we came on our visit here we were both not very serious people and we had a good time on our visit together," Jefferson said. "Last year, when we roomed together, we just started seeing that we were very similar in so many ways."
Despite being around a basketball legend his entire life, Jefferson says that Walton is the most down-to-earth person he knows.
"Considering who his dad is and how much money he has, he is one of the most low key people I have ever met," he said. "Most people have seen the car that he drives and the clothes he wears and you would never be able to tell that his dad is a millionaire. He drives a 1970 Cadillac, and that is perfect for Luke."
On the other hand, Walton said that Jefferson is who he is and that is what makes him such a great person to be around.
"He's the most confident dude out there," Walton said. "He once saw a picture of him on a desk in the office and picked it up and said, 'Hey Luke, don't you wish you were this dude.' He is just like that, and that is just Rich."
No matter what happens with their respective basketball careers, it is clear the two will remain friends and live the college life together, while playing a brand of winning basketball and having fun.
"Luke has a lot of things about him that a lot of people like," Jefferson said. "He loves to have fun, maybe a little too much fun at times, but what are you gonna do."
For Jefferson, it is nice to know that Walton feels the same way.