Athlete of the Week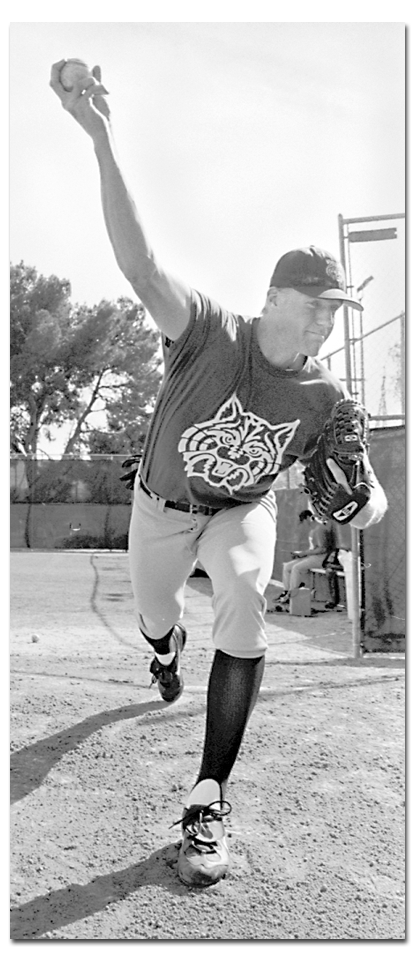 Aaron Farnsworth
Arizona Daily Wildcat
Sophomore pitcher Ben Diggins warms up in the bullpen Monday at Sancet Field. Diggins struck out 13 batters in a complete game victory against Tulane on Friday, and then hit two home runs and drove in seven Wildcats during the final two games of the series.
Don't let the blond hair and surfer-boy look confuse you - Ben Diggins is from a small town.
Judging by his play last weekend, though, the 6-foot-6 sophomore is anything but small time.
The 20-year-old from Prescott Valley, Ariz., pitched a complete game, homered twice, and drove in seven runs for the Wildcats as they swept No. 15 Tulane in three games last weekend at Sancet Field.
According to UA pitching coach Bill Kinneberg, UA fans have just seen the tip of the iceberg. Diggins' value can go nowhere but up.
"He's getting better as a player," Kinneberg said. "That's why he chose to come here. He's a great competitor and a good kid."
Following last weekend's success, Diggins was named the National Co-Player of the Week by Collegiate Baseball, one of the country's college baseball publications.
On Friday, Diggins set a career-high by striking out 13 men en route to his second straight complete game. He became the first UA pitcher to do so since 1995.
"Pitching-wise, I improved by not getting behind too many batters," he said. "I showed better command."
Kinneberg said Diggins' resilience was the key to Friday's success.
"Ben was able to battle back when he was down in the count," Kinneberg said. "He came back from 3-1 counts to get guys out."
Diggins acted as the team's designated hitter on Saturday and Sunday, hitting two home runs and driving in seven runs.
In 10 at-bats, the sophomore pitcher/designated hitter reached base nine times, good for a .900 on base percentage.
"Hitting-wise, I'm not thinking as much as I used to," Diggins said. "I just want to hit."
Which position Diggins likes best is still up in the air.
"I like them both," he said. "I really didn't start pitching until my senior year (of high school)."
Even before his career at UA started, Diggins had made a name for himself, turning down a million-dollar offer from the St. Louis Cardinals after being taken as a first-round pick out of high school.
Not that the decision was an easy one to make, as Diggins drives a 1987 Aerostar minivan.
"I definitely considered it," he said. "After playing a summer in Alaska, I decided to come here."
Diggins' hard work will pay off this summer when the righty becomes eligible for the draft again.
"If things go right, I'd like to go pro," he said. "At least I would like to have the option."
With a high draft pick will come a lot money, possibly more than what he turned down just two years ago.
"I'm not even going to worry about that until it happens," he said. "I'll go from there."