Brass band Crawdaddy-O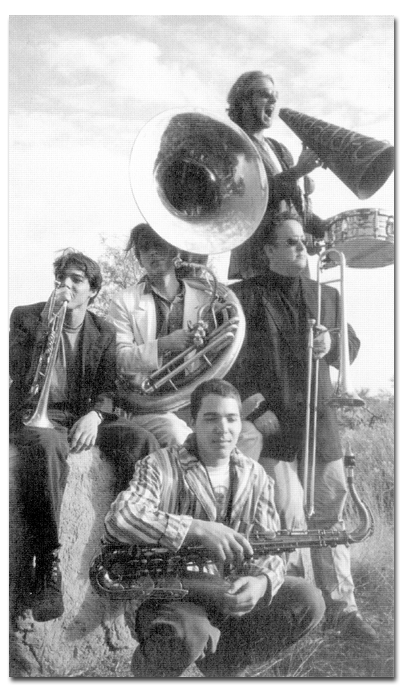 Arizona Daily Wildcat
photo courtesy of Aureleo Rosano Crawdaddy-O is Tucson's largest all-horn band. Winner of numerous Tucson music awards, they will be playing a number of upcoming shows for Mardi Gras.
Tucson may not seem the most likely locale to support a funky, guitarless, Cajun jazz band - but don't tell that to Crawdaddy-O.
The band is composed of drummer and vocalist Jimmy Carr, trombonist Fruitpie, and the Flying Rosano triplets - saxophone player Marco, trumpeter Dante, and sousaphonist Tony.
They will be bringing their blend of funk, soul and Cajun - and Dixieland - influenced jazz to a series of Mardi Gras gigs in the University of Arizona area.
"We get funky, we play old school stuff. All kinds of old school funk and grungy jazz," said Carr. "It's possible for us to discriminate (the set list) for any audience. We can keep a dancing crowd dancing, play to a jazz audience, pretty much anything."
The band has been successful in its discrimination, earning seven prestigious TAMMIES (Tucson Area Music Awards), including Best New Band, Best Release, Best Horns and Band of the Year. They've also played a much sought after showcase at the renowned South by Southwest music industry festival in Austin, Texas.
Yet, they remain committed to the Tucson music scene.
"South by Southwest is definitely a good time," Carr said. "(But) Nimbus (Brewing Company, 3850 E. 44th St., Suite. 138) is our favorite stomping ground. We play there about once a month, and I book those gigs like four months in advance because we like it so much."
"We'll be playing Spring Fling, too," he said. "We've played (UA) a bunch of times, and we like the audience there."
Though Crawdaddy-O has benefited from the nationwide swing music revival, Carr is careful to distinguish his band from swing groups like Big Bad Voodoo Daddy and their fans.
"There was a brief time when we had a small swing following," he said. "But they figured out we weren't a swing band, and they dropped us."
Carr said his band is often mislabeled because of their instrumentation. Without a single stringed instrument in the band, Crawdaddy-O is often labeled as a retro-jazz ensemble.
"The only reason people do that (classification) is because of our instrumentation," Carr said. "We haven't written anything in that style in quite a while."
Indeed, the band has decidedly modern tendencies. They have an official Web site, www.crawdaddyo.com, and two locally produced CDs - one of which includes a cover of "Godzilla," the heavy metal song by genre stalwarts Blue Oyster Cult.
They also have other projects in the works, including a Crawdaddy-O comic strip and a movie project.
"Those are both back burner sort of things," Carr said.
For now, the band is concentrating on the immediate future, including a week's worth of shows in Las Vegas, as well as some local gigs.
"We're playing every week," Carr said "Everybody puts everything they have into the band."
Though Crawdaddy-O plays an indefinable style of music, quite dissimilar to the current pop genre, Carr recognizes a common thread uniting the fans who come to their shows and buy their albums.
"Smart people like us come out to a show and have a good time," he said.