Scientists celebrate first images from Cassini Mission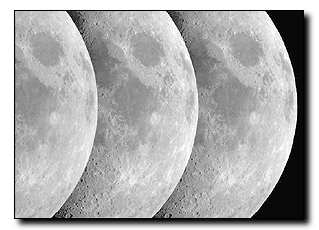 Arizona Daily Wildcat
Photo Courtesy of the Cassini Imaging Web site The Cassini spacecraft shot its first photos from 700 miles above the Pacific Ocean. The UA-assisted NASA mission is scheduled to reach Saturn in July 2004.
By Dave Paiz
Arizona Daily Wildcat,
September 8, 1999
The Arizona Daily Wildcat
Racing toward a July 2004 rendezvous with Saturn, NASA's Cassini Mission promises to be one of the most intriguing yet.
Itching with anticipation, scientists at the University of Arizona's Lunar and Planetary Laboratory got an early treat last week when NASA released the first scientific photos taken by Cassini's imaging system.
"We've been waiting nine years for this," said Carolyn Porco, UA assistant professor and Cassini Imaging Science Team leader. "We were very excited and gratified to learn that the camera system was working."
The images of the moon released on Sept. 1 were taken from over 700 miles above the Pacific Ocean during Cassini's Aug. 18 "flyby" of Earth.
Launched Oct. 15, 1997 from Cape Canaveral, Fla., the Cassini orbiter - a vehicle roughly the size of a 30-passenger schoolbus - is the largest and most advanced spacecraft ever built by NASA for planetary exploration.
The mission was launched amid scattered fears that the vehicle would explode and scatter nuclear fuel across the earth's atmosphere. As one of the project's most outspoken supporters, Porco was instrumental in getting the Cassini Mission off the ground.
The $3.3 billion mission includes 18 scientific instruments and associated experiments that scientists hope will illuminate mysteries such as the origins of life on Earth and the processes that govern planetary formation elsewhere in the galaxy.
"The images show that the camera is working - it is producing sharp high-resolution images, a high signal-to-noise ratio and high image quality," said Alfred McEwen, a research scientist at the UA's Lunar and Planetary Laboratory who is also on the Cassini Imaging Science Team.
"It's good news for the future," he added.
In addition to Porco and McEwen's involvement with Cassini's Imaging Science System (ISS), UA scientists are also playing key roles on the Descent Imager/Spectral Radiometer (DISR) for the Huygens probe, and Cassini's Visible and Infrared Mapping Spectrometer (VIMS).
Cassini is scheduled to arrive on July 1, 2004 to begin a four-year primary mission to study Saturn and its enigmatic moon Titan, as well as several smaller satellites and the magnetic field that permeates the Saturnian system.
Scientists were attracted to this area because it features more variety than any other system in the galaxy.
The ISS was custom-made to explore this distant region of the galaxy. It includes two cameras and a variety of spectral filters that will allow it to perform many different scientific observations.
"We have some ultraviolet (UV) filters that extend further into the UV spectrum than previous imaging systems," McEwen said.
Each camera also features a charged coupled device (CCD) detector - an array of photosensitive diodes that convert light into electrical impulses. This innovative system will give mission scientists a wide range of imaging options.
"One (camera) is meant to obtain the high-resolution view," Porco said. "The other is meant to capture the wide-field view."
Soon after it arrives, Cassini's imaging system will begin collecting atmospheric and meteorological data from Saturn and Titan on phenomena like cloud structures and lightning. It will also take a closer look at Saturn's rings.
In November 2004, the Huygens probe will parachute through Titan's mysterious atmosphere where scientists hope to catch a brief glimpse of the moon's surface.
"We have almost no idea of what's on Titan's surface," McEwen said. "There could be impact craters, there could be volcanos, there could be fluvial geology in the form of liquid ethane."
Cassini's camera system will also capture images of many of Saturn's icy satellites.
The Aug. 18 "flyby" of Earth was the third in a series of four slingshot-like maneuvers that are using the gravitational fields of Venus, Earth and Jupiter to increase the orbiter's speed and keep it on course as it heads toward Saturn.
Cassini's next "flyby" will be at Jupiter in December 2000 when the orbiter will get the energy boost it needs to reach Saturn. In an added bonus, scientists also expect to gain a wealth of new data about Jupiter.
"We have about a decade's worth of exciting results to look forward to from Jupiter and Saturn," Porco said.