Primary elections eliminate candidates, brings on face-off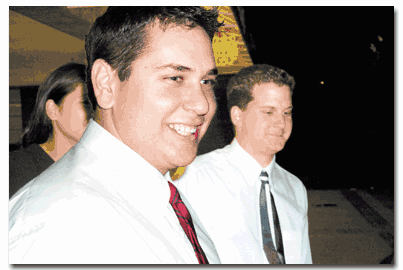 Aaron Farnsworth
Arizona Daily Wildcat
ASUA president Cisco Aguilar and vice president Ben Graff hear the results of the ASUA primaries Wednesday night outside the ASUA Bookstore. Graff was one of the presidential candidates to make it into the final elections.
Handshakes and hugs greeted the eliminated presidential and executive vice presidential candidates after the results of the Associated Students' primary election were announced last night.
Mike Schrade, a management information systems sophomore, was eliminated from the race for president with 10.12 percent of the vote.
"I think it was fun running, but if a candidates is not involved in a fraternity or ASUA, it becomes difficult," Schrade said after the results were announced.
"I was definitely going against the odds of being a sophomore and not being involved, but that should not discourage other students from running," he added.
Business management sophomore Scott Lavit was eliminated from the executive vice presidential race by a margin of two percent.
"I campaigned my hardest and did everything I could," Lavit said. "All candidates that are running want to represent the student body, so I'll be eager to know who wins."
The remaining candidates will face off during next week's general elections, March 8 and 9.
Ben Graff, psychology junior, led the presidential primary with more than 50 percent of student votes.
"I am so happy with the people that have pledged their support for me," Graff said, adding that the large percentage just "means I have to work harder."
Graphic design junior Ty Trujillo - who will face Graff for the presidency in next week's general elections - said he feels confident in his campaign and, although his numbers were not as high as he expected, his determination remains.
"I'm not going to change anything," Trujillo said. "Percentages - I'm down a little bit, but I'm still confident I have a good chance."
Erick Negri, a finance senior, who held the leading percentages for executive vice president, will run against marketing junior Ray Quintero in the final race.
Negri, who led by more than 10 percent, said his expectations matched the election results.
"Of course, I've got to feel good about it," Negri said. "I've given 100 percent."
As for the rest of his campaign, Negri said, "I'm going to keep going - 100 percent."
Quintero, who defeated Lavit by only two percent, said he was excited about the outcome and expects to make the most out of the next week of campaigning.
"I know there's going to be a big challenge ahead," he said. "I think we have a lot to do, and the best candidate will win in the end."
During the two-day period allotted to the primary elections, 1,532 of the 36,000 members of University of Arizona's student community voted - a somber turnout compared to ASUA's expectations, said Elections Commissioner Gloria Monta–o.
"It wasn't what we hoped for, but we think it might be the campaigning," Monta–o said. "We were hoping to hit 2,000 or 3,000, but it went up from last year."
Although the voter turnout was higher than last year's 1,378 primary votes - which was the lowest turnout in 10 years - Monta–o said the number is still too low.
"If you look at the past, say, 10 years, we are still looking at about 1,000 lower," Monta–o said. "Hopefully, there will be a lot more next week because it will be more intense."