UA Program makes outsiders out of insiders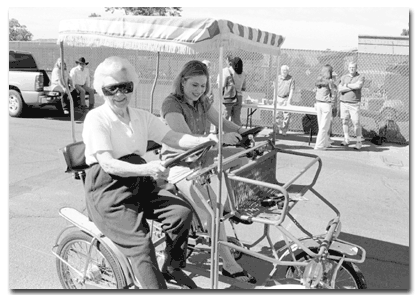 Eric M. Jukelevics
Arizona Daily Wildcat
Alzheimer patient Ida Johnson (left) and physiology sophomore Heather Nicholls (right) test out a two-person bike at the Randolf Park golf course early Saturday morning. Heather Nicholls is part of the Elder Rehab Research Project.
After living 90 years of her life without ever driving a vehicle or riding a bike, Alzheimer's patient Ida Jones took to the wheel for the first time with her rehabilitation partner, Heather Nicholls, in a two-minute bicycle ride.
Nicholls, a physiology sophomore, said that although Jones could not immediately remember the ride and expressed some fears of being on the "surrey" - a people-powered two-seater bicycle with two steering wheels - Jones took it for another whirl three more times.
Saturday was the first day of a three-month period that the bicycle will be available for two-hour sessions at the Randolph Recreation Center, 200 S. Alvernon Way.
Ryan Wirtz, owner of Bargain Basement Bikes, 428 N. Fremont Ave., lent the $3,500 bicycle to the Elder Rehab Research Project, said Sharon Arkin, UA licensed clinical psychologist in the department of speech and hearing sciences.
Wirtz was unavailable for comment over the weekend.
Arkin said this is only one of many community outreach efforts made by the program.
"Those who tried it really enjoyed it and a number of more have signed up," Arkin said. "Without Bargain Basement we wouldn't have this - they are lending it to us for three months."
Short-term memory lapses are typical for Jones, Nicholls said, adding that she often has to give Jones lots of prompts to spark her memory. Despite her short lapse, Nicholls agreed that the experience was uplifting.
"It was a really neat experience for me to see her ride a bike," Nicholls said. "She was scared to steer and pedal at the same time - she's never ridden a bike or driven a car."
Arkin said she also noticed an improvement in the mood of all the participants who took advantage of the surrey.
The surrey is available for those with a "disability, students with elderly grandparents or a friend, for anyone who wants to come and bring a handicap person, child or a friend," said Arkin, who founded the Elder Rehab project. "It's first priority is participants and Alzheimer patients."
Funded by the National Institute on Aging, about 15 University of Arizona students like Nicholls help Alzheimer patients - ages 59 to 90 - like Jones seek an active position in society, Arkin said.
The 15 students receive university credit in exchange for their support of Alzheimer patients.
Herdeep Phull, a molecular and cellular biology freshman, said the bicycle was an excellent idea because it provides a change of scenery from the standard, mechanical weight rooms the patients use during their exercises.
"In the weight room you're surrounded by bikes and you are constantly counting and recording your exercises," Phull said. "You're not doing that right now - it's fun and it's good because you get good air and enjoy yourself in a natural atmosphere."
Collin Baker, physiological sciences sophomore, agreed with Phull and said he was so moved by the program that he thought he would become a volunteer next semester.
"I just think it's clearly important that people our age help these elderly people because of their Alzheimer," Baker said. "This gets them out doing something."
Arkin, who praised Bargain Basement Bikes for their generosity to the program, said she has "had this dream for the longest time, and I think it's going to be so cute."
The idea of pairing a disabled person with an able bodied person in an active, outdoor exercise came to her during a visit to a beach in Florida, she said.
"Most people have never seen a vehicle or gadget like that," Arkin said. "These people bust their butts at the gym doing 20 to 40 minutes on the stationary bikes but here they get to exercise outside and see people."
.