Senior Night disaster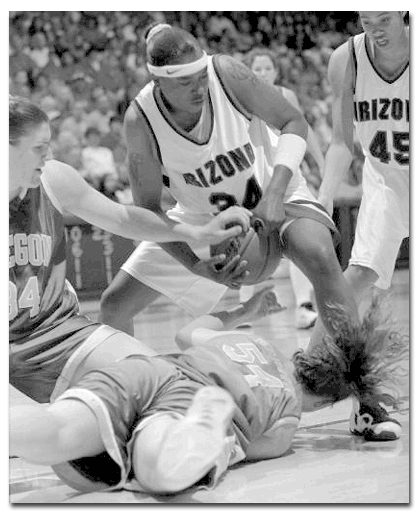 Associated Press
Arizona Daily Wildcat
Arizona's Angela Lackey (34) battles Oregon's Jenny Mowe, left, and Brianne Meharry, on floor, for the ball under the basket in the first half at McKale Center in Tucson, Ariz., on Saturday.
For the five seniors on the UA women's basketball team playing their final game in McKale Center, it wasn't supposed to happen this way.
They were concluding their careers as Wildcats in storybook fashion, but with 16 minutes remaining until their coaches, teammates, families and friends would shower them with flowers and confetti, something went terribly wrong.
In front of a record McKale crowd of 5,272, all five seniors were in the starting lineup and with a 22 point lead, they were just minutes away from holding a comfortable lead in the Pacific 10 Conference race.
But then it happened. Oregon went on a 35-12 scoring run, which included a 7:50 scoreless drought by the Wildcats, and ended up winning 75-71 on the UA Senior Night.
"We tend to relax when we think we have a lead," senior guard Monika Crank said. "That's one thing that we've been struggling with all year. We can't put people away like we should and like we have been in the past."
Arizona led 46-29 at halftime and extended that margin to 55-33 with 16:20 remaining, but Oregon's sophomore guard Shaquala Williams put the Wildcats in a tailspin.
The conference's leading scorer was limited to six first half points, but Williams notched 18 in the second half to lead the Duck rally.
"Once we got them on their backs, they never really got back up," she said. "I could see it in their eyes. I think they lost a little bit of confidence from what they had in the first few minutes."
Williams, who tallied most of her points on quick drives through the lane, added that the referee helped her in the scoring.
"The ref told me, 'If you attack the basket, you are going to get a lot more calls than if you are standing out on the perimeter ,'" she said. "So I kind of used his advice to my advantage. I told him, 'Thank you, I appreciate that little tidbit of information because now I am going to attack on them.' He was calling fouls, so I just kept going."
During the second half run, UA was limited to 33.3 percent from the field and committed 14 turnovers, a vast contrast to the 59 percent in the first half.
"In the second half, we got a good lead, but we stopped being aggressive," UA head coach Joan Bonvicini said. "I don't know if we got complacent, but (we committed) turnovers, guards stopped shooting the ball and Oregon never put their head down."
UA senior forwards Tatum Brown and Angela Lackey had 12 and 11 points respectively and 10 rebounds apiece. Senior guard Lisa Griffith also added 12 points, but the three combined for 12 turnovers.
"It hurts, it hurts really bad," Griffith said. "They did a great job and I'll give them all the credit. They didn't hang their heads, they stayed with it, they fought to the very end and came out on top. You have to give Oregon all the credit for not giving up."
The game began according to plans. The first five baskets were scored by each of the five seniors - guard Felecity Willis, Crank, Lackey, Griffith, Brown.
They were playing nearly flawless basketball in the first half, Bonvicini said.
Hitting outside shots (7-for-11 from the three-point arc), running the inside game (collecting 18 rebounds) and unselfish play (15 assists) helped the Wildcats open up the 46-29 first half lead.
That all changed after the break, as the Wildcats were outscored and nearly outrebounded, as the Ducks picked up where Arizona had left off.
"Today was obviously bittersweet," Bonvicini said. "We want to honor our seniors and we did, but we would have liked it to be a win."