Japanese animation club wants to make anime mainstream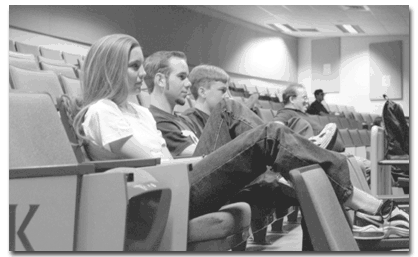 Matt Capowski
Arizona Daily Wildcat
Kerry Ruiz, left, Max Hollenback, middle, and Danny Harrington, members of Tuscon Animation Screening Society, watch a Japanese animation movie Saturday night in the Physics building. The club holds monthly public screenings on campus which have drawn as many as five hundred people.
A group of about 200 Tucsonans are trying to reveal society's complex issues by avoiding the mainstream media.
The Tucson Animation Screening Society - which held its fourth film screening at the University of Arizona Saturday - wants to make Japanese animation widely available to U.S. culture.
"American animation never really grew up, so that's why it doesn't talk about those issues," said Wayne Haarbye, trustee and founder of the society. "In America, it's still kids' stuff. Anime (Japanese animation) stories can be very dark, and they like to push out the controversial stuff. It deals with heavy topics like child abuse, drug addiction, broken families."
Haarbye said making anime available is an important mission because the genre deals with complex issues which are taboo in American media.
About 40 members saw an episode of "Rurouni Kenshin" - a Japanese series - Saturday. Haarbye said the show is a good example of anime's depiction of reality.
The show started as a movie and was eventually turned into a series, but the realistic violence of the original movie was never lost, Haarbye said.
He added this kind of violence is not seen in American cartoons.
"Violence in anime is different than in American animation, where it's often celebrated," he said. "It is shown for the cruelty that it is. It offends you."
By 7 p.m., around 40 people were at the screening.
Haarbye said the society has become very large since it began in 1995, but that growth has not always been easy.
The group began as a loose agglomeration, he said, and relied on library lending and private collections to present shows.
"It was really rocky at first because several hoarders got into power and tried to make it 'their' club," Haarbye said. "We had a couple of years of fighting but those people eventually left the club."
Rebecca Bundy, UA linguistics sophomore and a new member, said the Tucson group is now one of the best anime clubs in the country.
"What we show, you'll never see this stuff anywhere else in America," Bundy said. "It's sad because aside from the Internet, anime doesn't get much attention."
The society has between 200 and 300 members, who contribute dues, which help fund anime imported from Japan and the addition of English subtitles.
"Anime marketing is really weird in Japan," Haarbye said. "They don't make many copies of series. A laser disc set can sometimes cost $4,000 to $5,000. So we have a lot of people in the club who sponsor shows."
He said these shows are available to the public as well as members.
The club holds monthly public screenings on the UA campus, which include a feature anime film. Haarbye said the public screenings have drawn as many as 500 people.
Bundy said she believes everyone can appreciate anime.
"I think the draw of anime is to escape reality for a little while," she said.