UA Men's Basketball Notes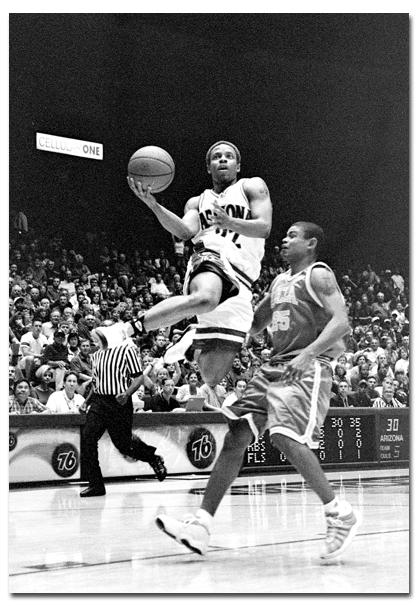 Aaron Farnsworth
Arizona Daily Wildcat
Freshman point guard Jason Gardner goes up for a layup against UCLA on Feb. 19 at McKale Center. Gardner was named to the second team of the National Association of Basketball Coaches All-District 15 team.
With No. 3 Stanford coming to town Thursday for arguably the biggest game of the season, the ninth-ranked UA men's basketball team would love to have its full lineup in tact.
That, though, may not be the case as the status of junior center Loren Woods is still in question as of yesterday afternoon.
"All that we can do as far as on the court is concerned is prepare with the guys we have," UA head coach Lute Olson said.
Woods, who is suffering from a back injury, has now missed four straight games and was thought to be out until at least the first round of the NCAA tournament.
"He has been continuing with the rehab program," Olson said. "We are still waiting for some results to come back of another test that he took. It's not going to be anything that we know until the doctors know. We are not sure if that is going to be in the next couple days or Thursday or Friday."
Woods did not travel with the Wildcats up to Oregon this past weekend, instead he stayed in Tucson and continued his rehabilitation workouts with UA's assistant trainer.
---
Despite losing both games in Oregon, the Wildcats feel a sense of relief that they still control their own destiny.
With UCLA beating Stanford on Saturday afternoon and UA losing Saturday night, Stanford still holds a one-game conference lead.
But, if Arizona beats Stanford Thursday night and then beats California on Saturday, UA would take home the conference title because it would hold the head-to-head advantage against the Cardinal.
"Because UCLA beat Stanford it still gives us a chance to win the Pac-10 and that is what we have been trying to do all year," redshirt freshman forward Luke Walton said. "Even though we did have a rough weekend, we still have a chance to accomplish our goal."
---
Freshman guard Jason Gardner, who has been sick, said that he is feeling better and by Thursday, he hopes to be at 100 percent.
"I got some medicine and got a little more rest this weekend because we got back early on Sunday," Gardner said. "I'm still a little sick, but I think over the next couple of days with some rest and some medicine I should be alright."
Gardner played 38 minutes and scored 22 points in the Wildcats 86-81 loss at Oregon, despite feeling ill.
"Jason Gardner's game against Oregon was tremendous considering the circumstances," Olson said. "I think that just points out what kind of competitor he is."
---
Three Wildcats were named to the National Association of Basketball Coaches All-District 15 team yesterday.
Sophomore forward Michael Wright was named to the first team, while Woods and Gardner took home second team honors.
Other players on the first team were Eddie House of Arizona State, Brian Scalabrine of USC, Kaspers Kambala of UNLV and Mate Milisa of Long Beach State.
Along with Woods and Gardner, the second team consists of Jeff Trepagnier of USC, Jerome Moiso of UCLA and Billy Keys of New Mexico State.
District 15 includes the states of Nevada, New Mexico and Arizona, as well as Southern California.
---
Gardner also received accolades from Andy Katz of ESPN.com and Dick Vitale of ESPN, as both nominated him as the best freshman in the nation.
Gardner is averaging 12.9 points per game, while playing an average of 36.7 minutes per game. He leads the team in assists with 148 and is shooting 38 percent from three-point range (65-of-172). He has also started all but one game for UA.