Snow day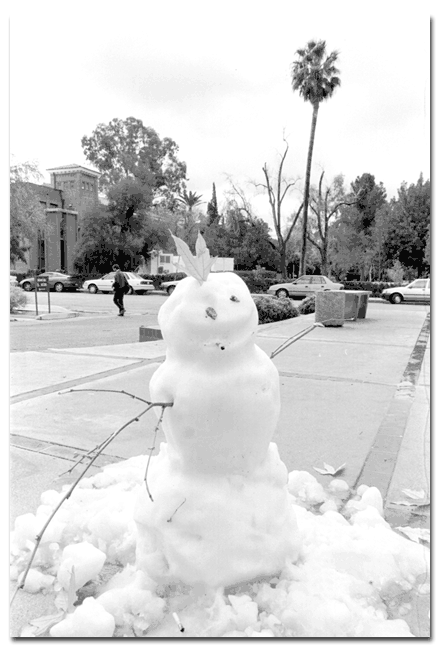 Eric M. Jukelevics
Arizona Daily Wildcat
A snowman begins to melt in the afternoon sun yesterday outside of the Manzinita-Mohave Residence Hall. Three other anonymously built snowmen were spotted at the Arizona-Sonora and Gila Residence Halls and the Chem-Bio Sciences building.
In a T-shirt and bare hands, Dustin Wright lobbed a mushy snowball across the grass outside UA's Gila Residence Hall yesterday, smiling as the slush splattered at the base of a small snowman sitting at the end of the sidewalk.
"It's a snowman - enjoy it! It'll be gone in 15 minutes," Wright called to students who walked past the carrot-nosed ice body.
Wright, a UA aerospace engineering freshman, and a few friends rose before dawn yesterday to bring home a truckload of the fresh snow that fell Sunday and Monday night on Mount Lemmon - part of the greatest amount of precipitation the Tucson area has seen in one of the driest winters on record.
Chris Rasmussen, a meteorologist from the National Weather Service in Tucson, said a relatively strong storm system "swung on down" to Arizona, producing .87 inches of rain since Saturday.
Between five and 10 inches of snow also fell in Santa Cruz County, and about two feet settled atop Mount Lemmon. However, Tucson temperatures did not dip low enough for the rain to freeze.
"It was a good, solid storm - that's the best way to put it," Rasmussen said. "This is a little stronger than a winter storm we'd normally have."
Although Rasmussen acknowledged the storm system was the most severe to hit Tucson this year, he added that many citizens may have been taken aback by the precipitation because it contrasted with the mild, bone-dry winter.
The "nice, steady" rain that fell from Saturday night to yesterday morning helped lessen the wildfire danger by seeping into the ground and hydrating the parched vegetation, Rasmussen said.
However, more rain is still necessary.
"We're still several inches behind where we should be for this time of year," said Rasmussen. "We need some more rain right now, but we'll take what we can get."
About one inch of rain fell between last October and the beginning of March, all of it during a storm in January. This is about one quarter of the four and a half inches that are considered normal for the same five-month time frame.
Though the overall precipitation levels remain considerably low, Wright was still able to find a good time with the snow that fell over the weekend.
Wright, who said he has always enjoyed playing in the snow, decided to share his fun with the entire University of Arizona community by constructing several snowmen, mainly at the entrance of residence halls.
Wright, from Wickenburg, said people had mixed reactions to his snowmen, mostly from surprise at seeing the grinning white figures sitting at random locales around campus.
"Some people are like, 'Is that real? Is that fake?'" Wright said.
Agricultural and biosystems engineering freshman Katrice Baldwin said the snowmen were a cheerful consolation for the lack of snow that fell in Tucson.
"I thought they were really cute," Baldwin said. "I thought they kind of brightened our day."
One of the snowmen, though, suffered an unfortunate beheading.
"I saw a guy kick his head off, and it wasn't very nice," Baldwin said.
However, Baldwin said another student put the head back on the body - where it sat until the afternoon sun came out and melted the figure into a puddle on the asphalt.