ASUA election special
By La-Monica Everett-Hayes and Audry DeAnda
Arizona Daily Wildcat,
March 8, 2000
Talk about this story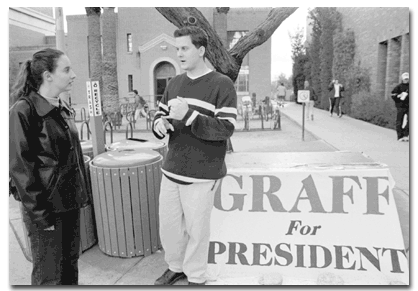 Running for ASUA President
BEN GRAFF
Psychology junior for President
With three years of experience with ASUA, Ben Graff said he has seen it succeed and he has seen it fail - so any choices he makes will be from knowledge, not trial and error.
"I know I can succeed in one year," said Graff, a psychology junior. "I just feel I will be the most accessible body president the UA has ever seen."
Graff said his main concerns are low tuition, better student advising and surveying students to learn their needs.
"In terms of where students want to see changes on campus , we need to start finding out what students want and where they want our tuition dollars to go," said Graff. He added that although legislators have suggestions, it is also a matter of student opinion.
With plans to stunt the growth of tuition costs, Graff said the "Consumer Price Index plus 1 percent is a way for students to predict how much they have to pay."
He said this is a more viable solution to maintaining low tuition costs than just raising tuition.
"With every year and with changes we need to make changes," he said adding that the CPI plus 1 percent would raise tuition 2.5 to 3.5 percent, which is lower than UA President Peter Likins' plan.
Graff, who walked away with over 50 percent of last week's primary election vote, said that his plan is more cost effective because Likins' plan would boost tuition costs roughly 9 percent.
"What we're saying is that there is inflation and tuition must adhere to that increase so we are we are willing to give 1 percent to address those needs. It's a way for students to predict how much they have to pay," he said.
Graff said the "Consumer Price Index plus 1 percent" is a more viable solution to maintaining low tuition costs and it "goes back to our state constitution that says tuition needs to be nearly free as possible."
He said surveying would then take place to determine where the students would like the 1 percent to be spent.
He also plans to reform student advising so students will see only one advisor for their major, minor and general education requirements - all this without causing current employees to lose their jobs.
"I want to get all the Arizona state universities, the community colleges and large companies together and take it to the state to get them involved," Graff said.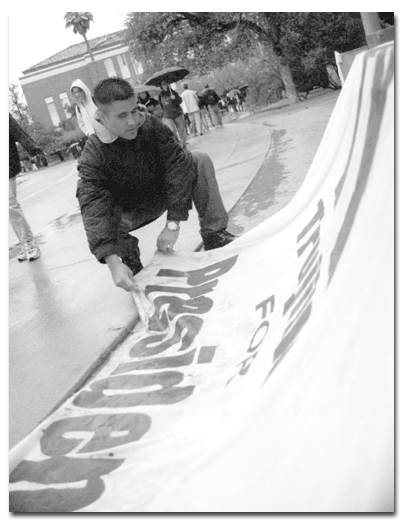 Running for ASUA President
TY TRUJILLO
junior, graphic design
When it comes to politics, Ty Trujillo said he has been on both sides of the fence.
He has served on the Associated Student government as a senator during his sophomore year and then took his junior year to step away from the system.
Now the graphics design junior said he is ready to represent the student body as president.
Trujillo has three main platforms, but they all have a common theme: bringing students back to ASUA.
First, Trujillo wants to implement a "Finish-in-Four" scholarship.
"It's kind of like the current Finish-in-Four program they have now, except its financial aid open to everyone," Trujillo said.
Under the plan, any incoming freshman at the University of Arizona who graduates in four years would have their last semester paid for by the UA, Trujillo said.
"I've developed this framework as a senator and the way it works the University of Arizona and the state of Arizona actually save money," Trujillo said.
For every one dollar in the UA budget, 20 cents come from student tuition and the other 80 cents come from the state of Arizona through gifts, grants and other money, Trujillo said.
"The quicker you graduate, the quicker they can use that 80 cents they were going to spend on you, back to the scholarship and back to the students," Trujillo said.
All the figures come from the Board of Regents website and he has discussed this with administrators here, he added.
"In my candidacy I want to get the framework (of the scholarship) started," Trujillo said. "It's a gradual process like any big kind of scholarship or financial aid campaign."
Trujillo said he also wants to improve student involvement through online voting.
In this year's primary elections, about 1,500 students voted, he said.
"To represent everyone, you have to get everyone involved or at least informed," Trujillo said. "Voting is the first way to do it."
Trujillo said he wants to see more students get involved.
"We all have great ideas, what we can do for U of A, what we can do for the students, but without the student support, what's the use," Trujillo said. "ASUA needs to go back to the students."
The last program Trujillo wants to implement would involve making ASUA accountable by allowing students to get their money back if they disagree with how ASUA is using their money.
"What better way to make ASUA accountable then to say if you don't actually listen to what students say or what students want, then you're going to lose some money," Trujillo said.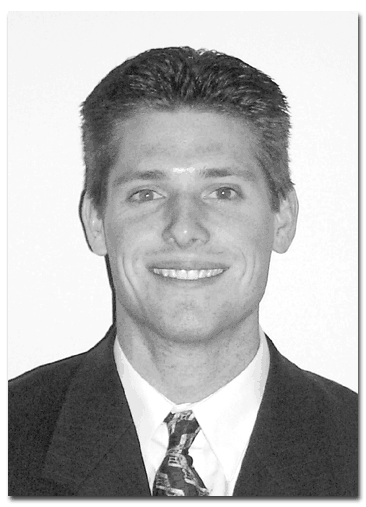 Running for ASUA Executive Vice President
ERICK NEGRI
senior, finance
Erick Negri wants to bring the students' voice back to ASUA and he has developed three ways to do this.
Negri, a finance senior, said the first way to hear students' needs is to involve the clubs and organizations.
He has developed a program called Voicing Issue Clubs. VIC will hold a monthly meeting where clubs and organizations can meet with him and discuss problems and concerns, Negri said.
He added that the first meeting would evaluate the Appropriations Board process.
"Right now seven people decided which clubs and organizations get funding and why," Negri said.
The criteria for clubs and organizations to receive funding is very broad, he said.
Negri said he wants to make the criteria more precise and allow the clubs and organizations to set those standards.
The second way Negri wants to reach out to the student body is by adding a weekly Internet chat on the ASUA website.
Negri said he would participate in an hour long chat, called Cat Talk, would take place three times a week.
Negri said as executive vice president, the main goal would be to represent the students.
"I asked myself how can I reach out to these students who maybe aren't able to come to the office or don't understand ASUA and Cat Talk was the answer," Negri said.
Another way Negri wants to reach out to students is to increase senator accountability.
"They (senators) come in and they have all these great ideas and I love to hear all these ideas but then after elections you don't hear anything about them," Negri said.
Negri said he would make sure senators follow through with their ideas by holding a strategic planning session at the beginning of the semester that will map out long-term and short-term goals.
How much each senator accomplishes during the year will be posted on the ASUA website, Negri added.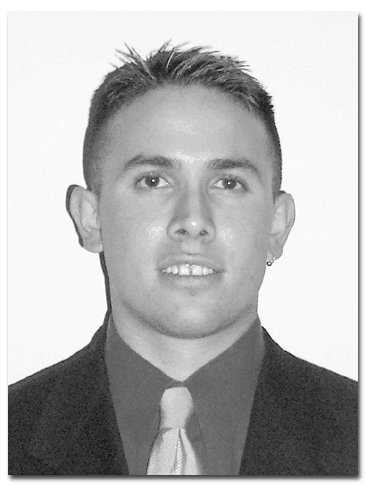 Running for ASUA Executive Vice President

RAY QUINTERO
junior, marketing
Focusing on increasing outreach and interaction between UA's Associated Students and the student body, Ray Quintero plans to be a more visible "student advocate" if elected executive vice president.
Quintero, a marketing junior, said he believes the creation of a newsletter - Strive for Wildcat Excellence - will "solve that (problem) with basic highlighted events from each club, organization and greek house would give every student information about what's going on."
Quintero also said he would also implement the Bear Down Presidential Council.
He said the council would facilitate discussion among students, professionals, clubs and organizations, greek houses and residence halls, breaking away tensions that may exist between them.
"This is the ideal vehicle for me to reach more people because I will have the information about each club and organization right there to establish a dialogue open to everyone involved," he added.
He said he wants to promote discussion between the various groups on fundraising and recruitment.
Quintero, who ran on the platform of student outreach and involvement for ASUA Senate last year, said he remains persistent on this issue because it is an important one to tackle.
"I chose this forum again because student outreach is something that will never end and must continue in order for it to be effective," he said. "I don't want people to look back and ask 'what happened to that issue?'"
These issues, Quintero said, are always important because he does not want any UA student to feel they can't be actively involved.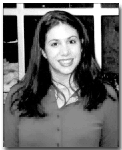 Running for ASUA Administrative Vice President

LAUREN BETH HICKEY
junior, molecular and cellular biology
Hoping for a more dynamic ASUA, Lauren Beth Hickey said UA's student body should never be short-handed by what ASUA's Administrative Vice President can provide.
If elected, instead of limiting her involvement to one specific service, she said she plans to reach out to all 15, the programs and services beneath her - possibly adding two more to the bulk.
"I want to go over with the directors and see how productive, how efficient and how proactive their plans are and modify them in a way that makes them most visible to the student body," said Hickey, a molecular and cellular biology junior.
Hickey plans to bring more programs to the UA - like MTV's "Loveline" -without draining student wallets.
With plans to find these funds for the student body and seeking new vehicles for the UA's Escort Service, Hickey said she would take her requests to corporate sponsors and donors - not the student body.
She said being crowned Miss Tucson 2000 last semester gave her a good idea of how to get corporate sponsors.
"Being Miss Tucson and having to get corporate sponsorship is not as hard as people think," Hickey said.
In the wake of the Feb. 6 stabbing of a UA gay student, Hickey said she hopes to present and eventually implement a Task Force that will act as a reactive- not proactive - group during campus crises.
Hickey said students can't prevent major crisis from happening, but they can react to them in a positive way.
Hickey said she hopes it will never be used, but like all other programs, she wants to provide a range of open opportunities that will adhere to as many situations and concerns surrounding the student body as possible.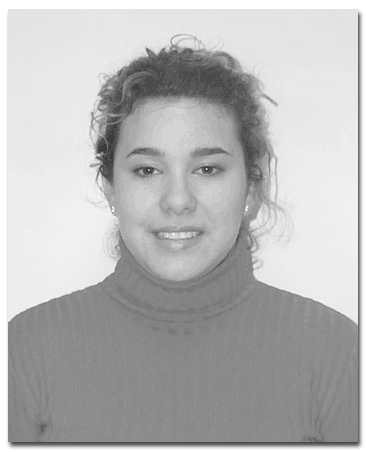 Running for ASUA Administrative Vice President

TIFFANY PODBIELSKI
junior, political science
Tiffany Podbielski has big plans for ASUA's programs and services if she becomes Administrative VP.
Not only does Podbielski want to improve programs and services biggest operation - the campus Escort Service - she also wants to re-evaluate the budgets of smaller organizations within the program.
Podbielski said she can improve the Escort Service by better managing their budget.
She wants to have the Escort Service be sponsored by local businesses so the program will have more money to get more vehicles.
"There's no reason why local businesses that are within four blocks and within escort range of campus shouldn't want to sponsor us," said Podbielski, a political science junior. "We take students to their businesses all the time and they know it and they appreciate it."
If Podbielski is elected, she also wants to re-evaluate the Programs and Services budgets of the smaller organizations.
"I want to evaluate why Programs and Services are in ASUA," Podbielski said. "If we find out they are a crucial part of the ASUA student government experience, then they're going to stay."
Podbielski emphasized that ASUA wouldn't completely cut off funding for Programs and Services, they would just look at where the organizations could best serve the students.
"Why can't they (small clubs) work with organizations we already have?" Podbielski said.
All the money that is saved in programs and services can go directly back to the clubs or the Escort Service, Podbielski said.
Podbielski said her involvement in different organizations around campus could help her relate to the diverse student body.
She is currently a senator and a member of the Pride of Arizona marching band, and also just pledged Alpha Chi Omega sorority.
"There are so many different programs and services, that I think being in all those different things gives me a unique experience," Podbielski said.
---
SENATORS
ELIEZER ASUNSOLO
Psychology junior
Eliezer Asunsolo came up with issues for his campaign by talking with students about how ASUA could improve the university.
The first thing students told him was that the UA transportation shuttle, CatTran, needs to be improved.
Asunsolo, a psychology junior, said he wants to improve the shuttle by adding pick-up drop-off points.
He is also concerned with making the campus environment safer by adding more lights.
"When you're walking around and you need to go somewhere, you don't want to go through the dark areas between buildings," Asunsolo added.
If Asunsolo is elected, he said he wants to find out why certain colleges - like the College of Humanities - don't offer as many internships as the Engineering and Business colleges.
Finally, Asunsolo wants to see more activities on the UA Mall.
He said when he first arrived at UA his freshman year there were a lot of activities on the Mall, but it has diminished over the years.
MATT BAILEY
Political science freshman
Matt Bailey, a political science freshman, said he knows that building a new campus will not be easy, but it's possible with his ideas about finance reform and creative funding.
Bailey proposes a campus-wide formal, boosting senate seats from 10 to 18, bringing popular bands to campus and making it easier for clubs to get funding.
He said he knows brining popular bands to the UA will seem expensive and may hurt revenues for the university's entertainment coordinators, UA Presents.
Still, he said, it will not harm UA Presents too much and will eventually benefit students.
"We're not talking about brining in 10 bands," he said. "We're talking about bringing in one event so that money can go back to students in scholarships and funding."
REBECCA BROKY
Architecture senior
Rebecca Broky said she firmly believes that the individual counts more than expected, so outreach needs to be hands-on.
"You don't have to be in a group to believe student government can work for you," Broky said. "I have to do little things at a time because you can't just put out e-mails and flyers - you have to talk to people."
Broky, an architecture senior, plans to "reach out to a broader base of students" by speaking to more individuals and scheduling less forums.
She does not plan to lobby on the mall or go from classroom to classroom seeking student concerns. Instead, she plans to seek out the individual student and speak to them about their concerns, face-to-face.
"If you start somewhere it starts to snowball," she said.
EMILY CADAMAGNANI
Animal science junior
Emily Cadamagnani believes the job of an ASUA senator is not only to represent the various clubs and organizations on campus, but also to get out into the community.
"ASUA is so large as a whole, and we have so many people under us, that it wouldn't be terribly difficult for us to get out there and help people outside the school," said Cadamagnani, who transferred to UA from Lassen College in Susanville, Calif., in August.
Cadamagnani, who was the student body secretary and an agriculture senator at Lassen, said each ASUA senator should be assigned to an organization on campus.
The senators would then be responsible for attending the club's meetings and reporting back to ASUA, which could then better address the needs of the campus.
CHARLA CARR
History junior
Charla Carr wants to be a senator so she can represent non-traditional students.
Carr is a single parent and a full-time student who works part-time.
Her main focus would be on the issues of graduate student housing, parking and child care, she said.
"I think it's really important to push the issue of daycare," Carr said.
Carr, a history junior, said the university needs to petition for an outside day care provider to be involved.
She said child care needs to be a main concern because the UA subsidy program does not benefit a lot of students.
"Only 53 people are allowed to use the UA subsidy program," Carr said. Currently there are about 500 people on the waiting list, she added.
BRON D'ANGELO
Psychology and Microbiology junior
Bron D'Angelo said self-segregation is tearing the UA apart.
But its diversity is welcoming and opens doors of unification opportunities to the student body, he added.
"I want to represent all of them," said D'Angelo, a psychology and microbiology junior. "Don't categorize people because we're all here for one thing - to have fun."
D'Angelo said students are not familiar with clubs, organizations and the university's diversity - all open opportunities for students - and students need exposure to them.
"Senators should go to meetings and clubs, not just on an individual basis because you have to show the clubs you'll be there for them," he said.
If elected senator, D'Angelo said he would advocate teaching clubs how to recruit members by continuing club funding forums in workshop form.
GINO DURAN
Political science and sociology junior
Gino Duran wants to represent students like him that have to work to put themselves through college.
"There's a group of student's just like me, that aren't represented," said Duran, a political science and sociology junior.
Duran said there are a lot of things the university could do that could help working students like himself.
First the university could provide more night classes and classes on Saturday, Duran said.
He also wants to raise the wages of students employed at the university.
"Student workers get paid minimum wage and I know I can't support myself on minimum wage," Duran said.
He said pay should be determined on experience.
If Duran gets elected, he also wants to give priority for parking permits to students who live furthest from campus.
SETH FRANTZMAN
History and Political science junior
Seth Frantzman said his plans for a better UA are vast.
"I've seen the same problem year in and year out," he said. "We've got to have ASUA really doing something - getting out there and having them talk about serious issues and really representing the students."
Frantzman, a history and political science junior, said the important issues are improving the club funding process, increasing support for minority and international students, increasing the student section at the McKale Center and re-establishing a sense of accountability in ASUA.
These problems, he said, are long existing.
"A lot of my issues come from individual students and clubs," Frantzman said, adding that his ideas will enhance trust and accountability.
JIMMY HOUSEWORTH
Political science sophomore
Jimmy Houseworth wants to be on the ASUA Senate so he can be a connection between the university's Residence Hall Association and the student government.
Houseworth, a political science sophomore, said he wants to increase communication between residents and ASUA.
"They (residents) don't know the type of things that's affecting them as residents," Houseworth said.
Houseworth said also wants to increase club funding.
"A lot of clubs are left to fend on their own," Houseworth said. "These are clubs that people really care about."
Houseworth said he could increase club funding by re-shuffling money distribution.
"I think you can be thrifty in other places, without hurting clubs," Houseworth said.
Houseworth also wants to increase student involvement.
"People who are informed do get involved," he added.
KRISTEL MILLER
Undeclared freshman
Kristel Miller is taking a simple approach to her campaign for Senate.
First, Miller wants to synchronize all the clocks on campus.
"It's something small, that won't cost any money but will make everyone's life a lot easier," Miller said.
Miller, an undeclared freshman, also wants to improve the UA residence hall roommate-matching process by composing a compatibility survey.
The survey would include questions about general personal habits, like listening to music while studying and sleeping habits, Miller said.
"I'm not making campaign promises I don't ideally think I could fulfill," Miller said. "Once I'm elected I would move onto bigger and broader things."
One of those bigger issues, Miller said, would be creating an ASUA House of Representatives along with the Senate.
MOHAMMAD SAIFUR RAHMAN SHAN
Computer engineering freshman
After working as a Senate aide for a semester, Mohammad Saifur Rahman Shan said he is ready to be a senator.
Rahman Shan, a computer engineering freshman, wants to represent all minority students along with minority clubs and organizations.
First, Rahman Shan said he wants to focus on the Jewish and Muslim communities.
"I want to bring together Jewish students and Muslim students so that we can work together through ASUA," Rahman Shan said.
He said he also wants to work with the UA Woman's Resource Center to raise awareness about rape.
Rahman Shan said students should not be discouraged because he is a freshman.
"A lot of people say it (being a freshman) means I don't know what's going on, but it just means I have fresh new ideas," Rahman Shan said.
JOSE RAMIREZ
General biology sophomore
Jose Ramirez wants to be a community bond between minority organizations and the student government.
He also wants to make the student body more aware of ASUA.
"Perhaps if people knew who ASUA was, they'd get more involved," said Ramirez, a general biology sophomore.
If Ramirez is elected, he said he wants to give clubs and organizations that don't have a lot of members more funds.
Ramirez said ASUA should give these organizations money to help them with fundraising.
He said he is also concerned about how the construction on campus is affecting students with disabilities.
DANIELLE ROBERTS
Mathematics and computer science junior
Danielle Roberts decided to run for Senate so she can represent student parents and returning students.
"The more I looked at ASUA, the more I saw that there wasn't any representation for non-traditional students on ASUA," said Roberts, a mathematics and computer science junior.
Roberts said she wants to focus on child care and keep the Senate knowledgeable on the issue. She also wants to put a child care facility on campus to help student parents.
If Roberts is elected she also wants the issue of sexual misconduct to be included in the UA's code of conduct.
"Hundreds and hundreds of other universities have it and I don't see why we don't," Roberts said.
Roberts is against any attempt of the state legislature to govern university issues, like bills sponsored by state Rep. Jean McGrath, R-Glendale, that would govern UA dorms and internet use.
These issues should be held on the university level, not on the state level, she added.
ROBY SCHAPIRA
Political science and business administration sophomore
Roby Schapira's main concern is student rights.
Schapira said he wants to focus on student rights and make sure decisions are made by the university and not by the state legislature.
"How could someone so far from the issue, make this decision," said Schapira, a political science and business administration sophomore.
Schapira wants to add a student Bill of Rights to the ASUA constitution to prevent state legislature from making university decisions.
The Bill of Rights would include the opinions of professors, administrators and students, he said, and polling would be taken by ASUA senators.
"Before a major piece of legislation can go through outside the U of A, something the Board of Regents would decide, I would like to see an opinions poll taken of the students," Schapira said. "I would like to see that they understand the issue."
If Schapira gets elected, he said he will create a forum for senators, administrators and faculty fellows.
This forum would be held once a month for students with issues and concerns to come forward.
ERIC SMALLWOOD
Agricultural and biological systems engineering sophomore
Eric Smallwood is running for Senate because of his love for the university.
Smallwood does not have an agenda but he said he's a really good listener and a hard worker.
"I'll do everything I can to represent the students," said Smallwood, an agricultural and biological systems engineering sophomore.
Smallwood said he plans to focus on the issues that students are concerned with.
People are concerned about parking, advising, getting a student section at the basketball games, Smallwood said.
If Smallwood is elected he wants implement a program where incoming freshmen are assigned an adviser.
Just by being involved on campus and listening to people in classes, he said he would be able to see what issues are bothering students.
"Even if no one comes to you, I think you can tell what students want and don't want," Smallwood said.
GEOFF SPENCER
Accounting, finance and political science senior
Geoff Spencer wants to be a senator because he feels his diverse background could contribute to the student government.
Spencer grew up in Rio Rico, Ariz., has lived in the Dominican Republic, and his parents currently live in Argentina.
"I think it's important for someone with a diverse background to represent UA because UA is so diverse," said Spencer, an accounting, finance and political science senior.
Spencer said his background in finance would be a great asset in the Senate because ASUA deals with a lot of money.
Spencer also wants to focus on parking. He said he would want to survey students about their concerns regarding parking and get the information to the UA Parking and Transportation Services.
"If we're paying all this money," Spencer said. "What are you (parking and transportation) doing for us?"
If Spencer is elected he also wants to lobby for a left turn signal to be put in at the Park Avenue and Speedway Boulevard intersection.
TRICIA A. WILLIAMS
Political science sophomore
Club funding and outreach, enlightening students and strengthening the Escort Service are Tricia Williams' top priorities.
Williams, a political science sophomore, said she will be keeping the safety of all UA students in mind while trying to revamp ASUA's Escort service.
"Escort Service needs to be a main focus so in a few years there isn't the same problem, like broken down vans," she said. "You can't easily run from blue emergency phone to blue emergency phone."
She also said she hopes to inform individual students, clubs and organizations about political issues because "a lot of people aren't aware of how much influence they can have."
Advocating improvements, Williams said she will endorse the leasing of vehicles, more fundraising and student outreach.