Mr. Enthusiasm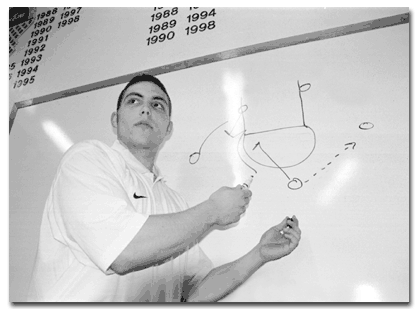 Aaron Farnsworth
Arizona Daily Wildcat
Senior guard Josh Pastner diagrams a play in the UA men's basketball locker room yesterday. Pastner, an aspiring coach, will play in his last home game as a Wildcat, Saturday against California.
One of the final times senior guard and co-captain Josh Pastner was on the floor as a basketball game went down to the wire, he blew it.
After the Houston Hoops' starting point guard cramped up in the Amateur Athletic Union national championship game in Indianapolis, head coach Hal Pastner looked down the bench for other options.
His son had played sparingly in the tournament, which featured 64 of the nation's best teams, but was poised to lead his team to victory.
"Josh wanted that championship badly," Hal Pastner says. "I wasn't about to show favoritism by putting him in, but I had to put Josh in there."
As Pastner dribbled the ball up the court for the final seconds in overtime, he was pressured by two opponents and called for traveling, turning the ball over with eight seconds left. The other team promptly scored the go-ahead basket two seconds later.
"You don't understand," Pastner says, recalling the game. "I'm not upset, I'm flat-out depressed."
The depression didn't last long, as Pastner's teammate Jerald Brown, now a guard at Texas A&M, made the winning shot at the buzzer to give the Hoops the national championship.
"I went from being depressed to being on cloud nine," Pastner says.
That was four years ago, in 1996.
Since arriving on the UA campus that fall, Pastner is 40-0 when playing. Yes, Pastner doesn't play until the last minute or two of an Arizona blowout, and yes, he asked head coach Lute Olson not to play him during Arizona's loss to Louisiana State last month to keep his perfect record intact.
Even if Pastner gets a chance to play in his final games at McKale Center this weekend, he'd rather watch from the sidelines and keep his streak if the issue is still in doubt.
Besides, being on the sidelines is where Pastner is most comfortable - he plans on going into coaching after his college basketball career ends this season.
"I've looked ahead, and there are a number of possibilities, but my first and foremost goal is to take care of the season here and help us win the Pac-10 and the national championship."
Student of the game
When he was a kid, Pastner would spend hours studying the game of basketball and practicing in the gym.
"I can vividly remember, Josh always had a tremendous love for the game," Hal Pastner says. "He'd say, 'I'm going to be in the NBA.' Who was I to tell him he couldn't?"
He never was the fastest kid and, in his father's opinion, was a little heavy, but whatever he lacked in athletic ability, Pastner made up for in sound fundamentals, a vast knowledge of the game and, above all, an unrivaled work ethic.
"He's intense, day-in, day-out," Hal Pastner says. "He's the hardest worker I've ever seen in my life, only topped later by my daughter (Courtney, a freshman guard at Texas Tech)."
When he was 12 years old, Pastner would help scout players for his father, the founder and organizer of the Hoops. When he got his driver's license, Pastner would drive across Texas and Louisiana to pick up members of the team at their homes, take them back to Houston for practice and then return them home, logging 500 miles or more every weekend.
At tournaments, he watched every game he could, then ran to his father yelling, "Dad! Dad! You've got to see this little guy from Minnesota! He can play!"
The "little guy" Pastner was talking about was current Connecticut junior, Khalid El-Amin.
From player to coach
When Pastner's AAU eligibility expired after his senior year of high school, his father gave Pastner the responsibility of coaching the team, recruiting and organizing travel plans, which he has done every summer since.
"Basically, I've been a coach at the Division I level, just not the same atmosphere, for the last four years," Pastner says. "Any time you're a head coach and you make decisions, no matter what level you're on, you're going to learn. I've done stuff where I've made mistakes and said I wouldn't do that again, and that's where it's going to help me."
Even though some of the players were older than him, Pastner always commanded their respect and attention. And why not? They knew he was helping them learn the game and better themselves as people and players.
If a player, friend or family member needed advice, they would turn to Josh, whose positive attitude was contagious.
When his best friend and former Hoops teammate, David Boston, returned from his freshman year of college at Ohio State wearing an earring and his hat backwards, Pastner was the first person to step in and straighten him out.
"I had a long talk with him about how he had to cut that out," Pastner says. "He needed to hang out with the right people, be a role model and was hoping to play professional football. After that talk, he'd be the first one to every class and sit up front, paying attention the whole time."
It must have worked, as Boston is now a wide receiver with the Arizona Cardinals.
Instant friendship
Pastner's enthusiasm continued as he entered college, and even though he had earned the respect of players on the Hoops, he had to start earning that respect all over again at UA.
"I didn't know how the other guys would take to him," Olson says. "Sometimes, when a guy's that gung-ho, guys are like, 'What's this guy all about?' I think that initial reaction might have been there with some of our players when he first came here, but then, they noticed that this is what Josh is all about."
Pastner, a walk-on, and fellow freshman and former UA star Mike Bibby immediately became good friends. Bibby was a McDonald's All-American and a highly-touted recruit, while Pastner was a two-year high school letterman and an all-district player his senior year.
Arizona recruited Bibby, while Pastner recruited Arizona.
For hours on end, Pastner rebounded for Bibby and gave him shooting pointers, helping him become one of the country's top point guards.
"He helped me on my shot from the first day I got to Arizona until the day I left," Bibby says. "He knows a lot of what he's talking about."
Bibby only stayed two years at Arizona, leading Arizona to the 1997 national championship and the 1998 regional finals, and credits much of his success to Pastner.
"They're the ones who should get the credit," Pastner says. "They came in with an open mind and said, 'Hey, here's a guy who's helping me learn.' That's why they are who they are now."
After being picked second overall by the Vancouver Grizzlies in the 1998 NBA Draft, Bibby offered Pastner a job to be his personal coach.
"I asked him to come up here and help me out, but he said he had the team, graduation and a coaching career ahead of him and everything, so I guess I understood," Bibby says.
After Bibby left, Pastner continued doing the little things that make Arizona a successful program. At the beginning of this season, his teammates voted Pastner, along with junior center Loren Woods, team captain.
When associate head coach Jim Rosborough called Hal Pastner to tell him the news, the elder Pastner's voice choked up as he said, "I guess that just goes to show you that a scrub can make it big."
On top of working with teammates, scouting opponents and breaking down game films, Pastner was also getting his degree in family studies after two-and-a-half years, taking 33 units one semester.
A year later, December 1999, Pastner earned his master's degree in teaching.
"That gives you credibility when you go talk to schools," Pastner says. "When you talk about being serious with academics, they believe you because you can back that up."
What the future holds
In a perfect world, Josh Pastner would remain on the Arizona bench next season and beyond, either as an assistant coach or a graduate assistant.
"I would love to coach here," Pastner says. "I would love to be an assistant coach here and, down the line, coach the team and win the national championship here as the head coach."
Unfortunately, the NCAA only allows three assistant coaches and no graduate assistants, and Arizona has three assistants with secure jobs.
"It's so hard to get that entry-level position in coaching now," Olson says. "We have our three staff members who are obviously going to be back next year, unless one of them gets a chance at a better job. If that happens, it is very obvious Josh would be given prime consideration."
Pastner has full support from UA fans, who chant his name towards the end of games, trying to get Olson to play him.
In only 20 minutes in 12 games this season, Pastner is 4-for-7 from behind the three-point line.
"It's awesome," Pastner says of his fame. "It's almost to the point that I feel guilty if I don't take a shot, I have to give back. The crowd is so awesome and the people and the university, I can't thank them enough."
After four years at Arizona, Pastner says it's hard to believe that Saturday's game against California is his final home game as a Wildcat player. Though he says he's the same positive, energetic guy now as he was when he first came to Tucson, he still can't believe all the attention he gets.
"Everybody knows who Josh Pastner is now. He's had more TV time than Dick Vitale," Olson says. "The next person I meet that doesn't care for Josh Pastner will be the first."
After Arizona's 1997 summer trip to Australia, Olson jokingly told Pastner that he was better suited for public relations instead of coaching because of his strong personal skills. Pastner had negotiated the prices of breakfast at every hotel, paying $2 instead of $10, because all he wanted to eat was the fruit and cereal.
Olson, meanwhile, would be paying the full $10 for the same thing.
"He's the all-time negotiator," Olson says. "Maybe he should be an attorney or in any kind of negotiating."
Thanks, but no thanks, Pastner says - basketball is in his blood. He may be graduating from playing college basketball, but he's moving into the world of basketball coaching, only this time, it's a full-time job.
"I don't think it will sink in because I'm having such a great time," he says. "There wasn't one day where I took anything for granted, and I'm thankful to be in the position I'm in here. I love the team, I love the school, I love the community. I've had such a tremendous experience, that there's not one day that will go by that I haven't thought about it.
"In the big picture in life, that's what it's all about. It's not the final outcome of the score, it's about being a great person, and that's what I try to do."