Shout out to all the women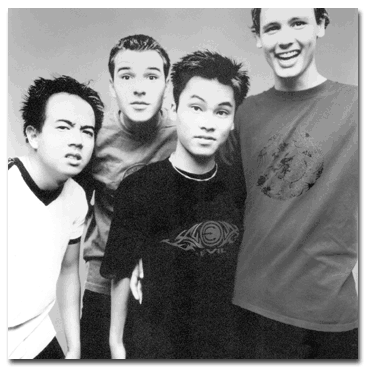 Arizona Daily Wildcat
Southern California punk band Home Grown has finally found its niche in a world filled with pretty girls, kickin' parties and old friends,.
"We started jamming right after high school in the summer of 1994. I don't know how it happened - we just got really lucky," said guitarist and vocalist John E. Trash. "We're all pretty girl power,"
For Home Grown, girl power takes on a whole new meaning.
Trash said that the band tends to get its musical inspiration from life experiences, party memories and, most importantly, girls. He said their nationwide touring has added a new perspective on their favorite audience members.
"Playing in Arizona, there's a lot of girls there that I know and that I'm friends with. It reminds me a lot of California, but it's a lot drier," Trash said.
Trash said he, along with 23-year-old guitarist Justin Poyser and 24-year-old drummer Bob Herco, is single - and always looking.
With the release of their newest album, Act Your Age, Home Grown's success has spread through California, Arizona, Hawaii and throughout the major cities in the United States. The band has even played in Anchorage, Alaska.
Trash said the band enjoys playing at both major tour shows and local parties. Home Grown appeared in Tucson last September at Lambda Chi Alpha's fraternity house to help greek students at the University of Arizona celebrate the culmination of the Watermelon Bust.
Trash, 24, graduated from high school in 1993 with Herco and 24 year-old vocalist/bass player Lohrbach.
He said the band has not only improved their music, but also their attitude.
"We were young and really snotty (in high school), a bunch of party kids, especially me," Trash said. "I was kinda angry at that time. I was bitter towards high school and all that."
Trash's loathe of high school created a musical channel for his free expression - leading to the band's inception.
Home Grown decided upon their name as a result of yet another high school memory.
"It was off our group in high school. We were the 'Home Grown group,'" Trash said. "It was some kind of a lame clichˇ, but now, it's all good."
Even though the guys of Home Grown love the party scene, they have also realized the boundaries of their musical careers.
"We kinda grew up and matured a lot. We can't do this forever. It's just a part of us," said Trash. "We'll enjoy it while we can."
Home Grown has toured with a multitude of well-known punk rock bands, such as MXPX, Save Ferris, Lit and Blink 182 - back when they were known as just Blink.
Trash also said he is inspired by the musical talent of punk and pop bands like NOFX, Jimmy Eat World and Green Day.
Though it might seem as though Home Grown has had an easy time of things, the band acknowledges their success in a very down-to-earth manner.
"Seriously, we were so fortunate. We've always had people help us out in some way. We got really lucky," said Trash. "As long as you have people in your band you can be friends with, that's the most important thing. When we get home from tour, we still call each other the next day and say 'what's up?'"
Home Grown began its spring tour last Friday, Mar. 3, in Dallas, Texas. The band played to a nearly sold out crowd at the Rialto Theater.