Graff nabs Presidental win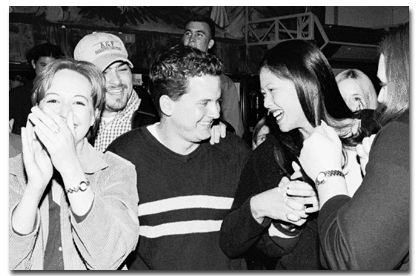 Amy Bohme
Arizona Daily Wildcat
New ASUA President Ben Graff reaches out to his girlfriend Linda Nguin last night at El Charro after discovering he won the election. Graff's Campaign Manager Kelly Dalton celebrates on his other side. The official count was 1339 to 588.
Longtime ASUA member Ben Graff defeated Ty Trujillo last night by 751 votes to become the new student body president.
Graff, a psychology junior and current ASUA executive vice president, garnered almost 70 percent of the votes and said he was grateful for students' support.
"We've put in so much work and so much effort and the student body has been so responsive," Graff said."It's time for me to pay back the students."
Graff said he is ready to bring the student government back to the students.
"I'm excited for a student body that will know ASUA," Graff said.
Current ASUA President Cisco Aguilar said Graff will be successful as president.
"I have a lot of confidence in Ben," Aguilar said. "I've worked with him for the past two years. I wish him the best of luck and I know he'll do a great job."
Trujillo, a graphic design junior, said he still feels confident that he ran a worthy campaign.
"I tell you, first of all I'm glad it's over and I think it's time for me to get back to my school work. I gave it my all - I don't regret anything and still plan on being involved," Trujillo said. "Ben will make a good president."
Finance senior Erick Negri beat current ASUA Sen. Ray Quintero by about eight percent to grab the executive vice presidential position.
Negri said he was speechless about his victory.
"Honestly its something that's hard to put into words," Negri said. "It's an absolute amazing feeling."
He added that Quintero was an "amazing" competitor.
Quintero, marketing junior, said despite losing by about 150 votes, he felt confident.
"I think I did well and I appreciate every one who supported me," Quintero said.
Sen. Tiffany Podbielski trailed Sen. Lauren Beth Hickey in the primary election for administrative vice president, but won last night with 61 percent.
After her comeback, Podbielski - political science and psychology sophomore - complimented Hickey through tears of joy.
"I think that we both did a very good job," Podbielski said. "I want to commend Senator Hickey, she ran a very good campaign."
Podbielski said she was excited to take on the new position.
"I wanted this for so long and was really nervous, but I'm happy," she added.
Hickey, a molecular and cellular biology junior, said she was appreciative of the support provided by her family and friends.
"I ran a great campaign but the student body voted for Tiffany (Podbielski)," said Hickey. "I think she's going to do well."
Matt Bailey, a business economics freshman, nabbed the most votes in the race for Senate seats. He walked away with 38 percent of the vote and said he has a great desire to begin his campaign promises immediately.
"This is outstanding," said Bailey, a business economics freshman. "I think that the number one thing was getting out to the people."
Bailey said he firmly believes that his visibility to the public with "meetings scheduled left to right" pushed him into the forefront.
Non-traditional student Danielle Roberts, a student parent and mathematics and computer science junior, took home 30 percent of student votes.
"When I came into this I was so scared because I was so different from them (the other candidates)," Roberts said.
She added that the candidate group has bonded and she knows they'll work well together next year.
Gloria Monta–o, ASUA elections commissioner, said she felt confident that each candidate ran a strong and clean campaign and the hike in voter turnout was a result of competition.
About 2000 votes were cast this year - 300 more than in last year's election.
"It was neck-to-neck the whole week and they remained positive - from what I saw when they were around me - and went 100 percent," Monta–o said, adding that this year's Senate is even more diverse.
Monta–o said there has been talk of implementing online voting in the near future to help with voter turnout.