Free class attracts business, engineering students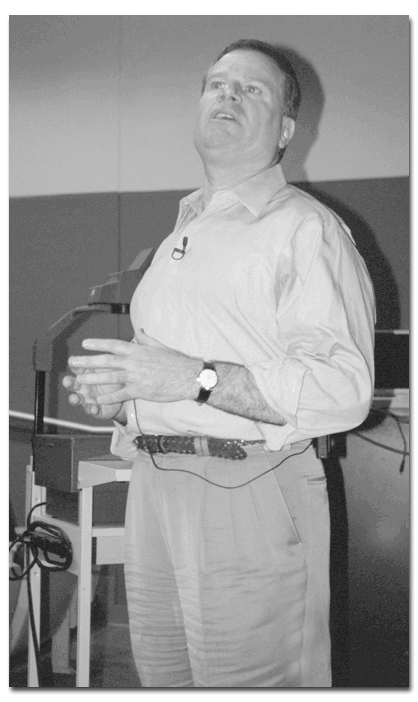 Aaron Farnsworth
Arizona Daily Wildcat
Chief Operating Officer John Champagne of New York's Global Metals gives a presentation in the Center for English as a Second Language Thursday evening. Champagne and associate Craig Steinke explained the marketing aspects of copper mining in Arizona and the world.
Even though it was scheduled just before spring break, turnout was higher than expected for a five-day one-credit class offered through the UA engineering and business colleges.
The free MAP 478 "Building a High Performance Company" attracted about 100 students every night for two hours, even though the colleges predicted about 30 students would participate, said Mark Zupan, dean of the Eller College of Business and Public Administration.
Zupan said 115 students signed up for the class, and he was pleased with attendance, especially since "it's given the week before spring break and the week of midterms."
The former management team of Magma Copper Company, now called BHP Copper, taught the students how to add business aspects to their engineering skills. Most of the class consisted of College of Engineering and Mines students, plus some undergraduate business and MBA students.
Richard P. Johnson, president and CEO of Quality Electo-optical Devices LLC, was part of the teaching team and said engineering students can't just concentrate on their area if they want to be promoted to management positions.
"In order for engineers to move up in an organization, they need to know other disciplines as well," he said.
Zupan said the elective class was condensed into a week because Burgess Winter, the retired Magma Copper CEO and leader of the instruction team, lives in England.
Winter and his wife financed $15,000 through the Magheramorne Foundation for the students' tuition.
Mechanical engineering senior William Goble said his midterms were already over, so the time spent in class was not a problem for him.
"The great thing about it is that CEOs are teaching, they're able to bring their experiences in industries and what happens on the business side," he said.
Undergraduate students will write one paper and graduate students will write two papers, both due March 27, and students receive a letter grade for the class.