Best in the West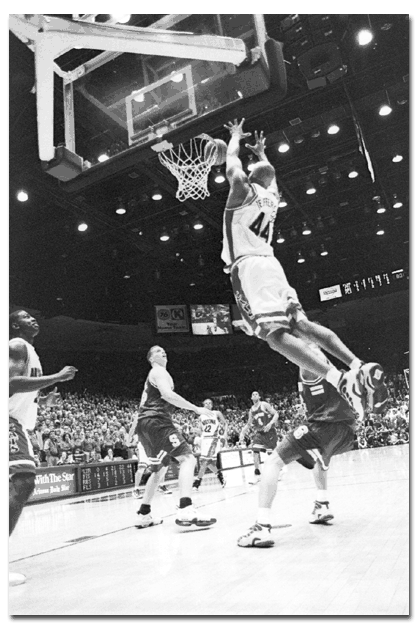 Arizona Daily Wildcat
Photo by: DAN KEMPNER
Sophomore forward Richard Jefferson goes up for an alley-oop yesterday in Arizona's 86-81 victory against Stanford at McKale Center. The Wildcat win put the UA in a first-place tie with Stanford in the Pac-10 standings.
After being written off all week, the UA men's basketball team had something to prove.
Following two losses to Oregon and Oregon State last weekend, the nation's media said the Wildcats had no chance of getting a No. 1 seed in the NCAA tournament, nor had any chance of beating Stanford and clinching a share of the Pacific 10 Conference championship.
The Wildcats (25-6 overall, 14-3 Pac-10) silenced those critics last night with an 86-81 victory against Stanford (25-3, 14-3), tying them with the Cardinal for first place in the Pac-10.
If Arizona wins Saturday against California (McKale Center, 4 p.m.), they will gain the conference's automatic bid to the NCAA tournament because of its two wins over the Cardinal.
"Everyone had written us off, I even heard that different publications said Stanford was the new team in the Pac-10, they were the team to beat," sophomore forward Richard Jefferson said. "That's not true, Arizona's the team to beat as long as I'm here, as long as the guys who are still here playing basketball, we're always going to be the team to beat. Stanford may have taken UCLA's spot as the second-best team in the Pac-10."
Sophomore forward Michael Wright led Arizona with 20 points, most of those points coming off 15-foot jumpers because UA head coach Lute Olson didn't want to play to Stanford's strength- down low.
"We felt we had the advantage on Stanford with our quickness," Olson said. "You can't let Stanford play the way they want to play."
Mark Madsen had 15 points and 10 rebounds inside, but David Moseley and Casey Jacobsen's three-pointers continually answered Arizona's baskets, as the two contributed 21 and 20, respectively.
Despite the victory, Arizona got some bad news, as junior forward Justin Wessel sprained his ankle and left the game with 8:02 remaining and will miss Saturday's game against the Golden Bears.
Wessel, inspired by critics who said he couldn't defend Stanford's Jarron and Jason Collins, had five steals and held the Collins twins to two points each.
"The job he did closing that middle up, it was something to behold," Olson said.
After not scoring last weekend in his return from a broken foot, Jefferson scored 19 points, capped off by an alley-oop from redshirt freshman forward Luke Walton, one of Walton's career-high 12 assists.
"I've been trying all season," Walton said. "I've been telling my teammates that I want to get double-digits in assists. Rich helped, I probably had three or four to him cutting towards the basket."
Freshman guards Jason Gardner and Gilbert Arenas each had 14 points, and Arenas added seven rebounds. Gardner outplayed Stanford point guard Michael McDonald, who scored two points on 1-for-7 shooting, while Arenas created chances slashing to the hoop.
"I was just trying to go out and hustle," Arenas said. "We needed someone to create the spark, and I was just trying to go out there and jump the floor. They (the coaches) said I haven't been rebounding enough, so I went out and got seven tonight."
If Arizona needed any extra motivation, it got it from the 14,545 people in the crowd.
"You could just feel the electricity in the place right off," Olson said. "That crowd was the best, the loudest, everything, we've ever had."
After the buzzer, students swarmed the court in celebration.
"It was great, we see every other team do it to us, and it was nice to have it on our side," Arenas said.