WOMEN'S TEAM CONTINUES TO MARCH ON (03/20/2000)

UA's women's team continued their run to its first NCAA championship by defeating the Kent Golden Flashes on Friday. The No. 8 ranked Wildcats now move on to face No. 1 Tennessee at the Volunteers home court in Memphis.
Check out the preview right here.
Wrap up of the match against Kent.
---
ANOTHER EARLY EXIT FOR THE WILDCATS (03/17/2000)

Arizona became the first No. 1 seed to be knocked out of the NCAA Tournament with a 66-59 loss in the second round to Wisconsin Saturday. For the second year in a row, the Wildcats failed to make it past the first weekend of the tournament.Find out more about the player's reacted to a tough loss to Wisconsin right here.
---

WILDCATS CRUISE IN FIRST ROUND MATCHUP (03/16/2000)

The margin of victory may be a bit deceiving, but nevertheless it is still a 24-point win.

The top West Region seed Arizona Wildcats (27-6) treaded through some hot water in the first half against the No. 16 seed Jackson State Tigers (17-16), but in the Wildcats were left standing with a 71-47 win.


Read the complete story.
Arizona fought off first round jitters before dominating the second half.
See photos from the Jackson State game. [Part 1] [Part 2]




---

NCAA TOURNAMENT ACTION COMES TO TUCSON (03/16/2000)

Although Arizona may be in Salt Lake City, NCAA tournament games are still taking place in Tucson. High profile teams such as St. Johns (N.Y), Oklahoma and local favorite Northern Arizona battle for the national championship in the other half of the West Regional all day Thursday and Saturday.

Read the thoughts about the first day of action at the McKale Center.

See coverage from Oklahoma-Winthrop, Purdue-Dayton, Louisville-Gonzaga and St. Johns-NAU.

Gonzaga seemed to have won over the fans and this Wildcat reporter; NAU recieved home support in its tough loss to St. Johns, and Gonzaga was playing for its hurt team leader.


---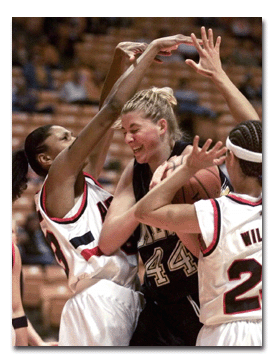 Associated Press

Kent's Julie Studer (44) tries to get through the defense of Arizona's Tatum Brown, left, and Felicity Willis on Saturday, March 18, 2000, at the women's NCAA tournament in Knoxville, Tenn.