Teammates remember fallen Icecat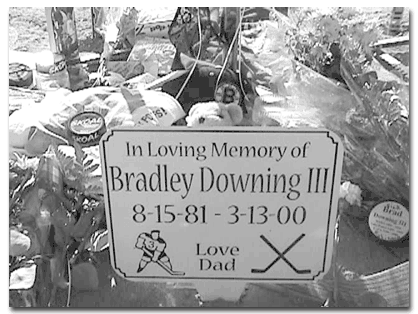 Arizona Daily Wildcat
Rachael Myer Arizona Daily Wildcat A memorial for UA freshman Brad Downing has been created at the intersection of McQueen and Warner roads in Gilbert. Downing, who was a member of the Icecats, was killed last Monday after the driver of a stolen truck that was traveling at about 100 mph ran through a red light and slammed into his car.
While teammates and coaches are struggling to cope with the death of freshman Icecat Brad Downing III, Chandler police are still trying to piece together the events that led to the fatal accident in the East Valley last Monday.
Downing, 18, was killed when a stolen pickup truck driven by Rosemarie Forker, 29, ran a red light and struck Downing's Camaro, said Sgt. Ken Phillips, a Chandler Police Department spokesman.
Icecat head coach Leo Golembiewski said Downing had a positive attitude that was contagious on the team.
"He was a pretty lively guy, pretty popular," Golembiewski said. "What I liked was his work ethic and coachability."
The team will wear black armbands with Downing's number 23 on them next season, and his jersey will be retired for one year.
"He is an Icecat forever," Golembiewski said.
At the team's season-ending banquet last night at the Tucson Convention Center, Golembiewski presented Downing's mother, Kathy, with Downing's white home jersey, and his father, Brad Downing II, with his blue away jersey.
Golembiewski described the mood of the banquet as "one that was not full of levity and gaiety."
"It was quite a somber mood," junior co-captain Paul Dorn said. "He was one of those happy-go-lucky kids. We had a lot more smiles out on the ice than frustrated faces, and Brad was one of them."
Junior Mike Graves agreed.
"I never saw the kid in a bad mood in my life," Graves said.
Graves added that the team tried to go on "like normal, but everybody had it in the back of their minds."
Downing was driving westbound on West Warner Road in Gilbert Monday when he entered the Warner-McQueen Road intersection. Forker, who Phillips said was driving at about 100 mph, ran a red light and entered the intersection in the northbound lane of McQueen, where she struck Downing's car.
Phillips said Downing was ejected from his vehicle and died instantly.
Witnesses on the scene reported that the officer in pursuit of Forker, Dan Lovelace, was about 200 yards behind Forker on McQueen. Two witnesses, though, later conflicted that report and said Lovelace's police cruiser was only one car length behind her when the collision occurred.
Phillips said yesterday that it would have been physically impossible because Lovelace wouldn't have been able to avoid the accident, which also sent Forker and a passenger in her car to the hospital with non life-threatening injuries.
"The officer was trying to catch up (to Forker's vehicle), he wasn't close enough to be there," Phillips said.
Forker has been arrested on charges of manslaughter and endangerment, Phillips said.
Freshman Ryan Roth, who met Downing while the two attended Lake Forest Academy prep school in Lake Forest, Ill., said he does not blame the officer for trying to apprehend Forker.
"It wasn't the cop's fault, it's this terrible woman's," Roth said.
Downing, who grew up in Gilbert, went to the Lake Forest Academy to pursue his passion for hockey. He and Roth were the only two freshman to make the varsity team there and the two would often spend time outside of school together, including Easter dinner at Roth's house.
"I don't have a brother, but (my family) definitely considered him one," Roth said.
Roth, who teammates described as Downing's best friend, plans on dedicating the entire upcoming season to Downing.
Golembiewski said one of the hardest things to understand about the tragedy is that Downing was simply at the wrong place at the wrong time.
"Brad did something as innocent as go through a green light, and it took his life."