Escort Service prepares for changes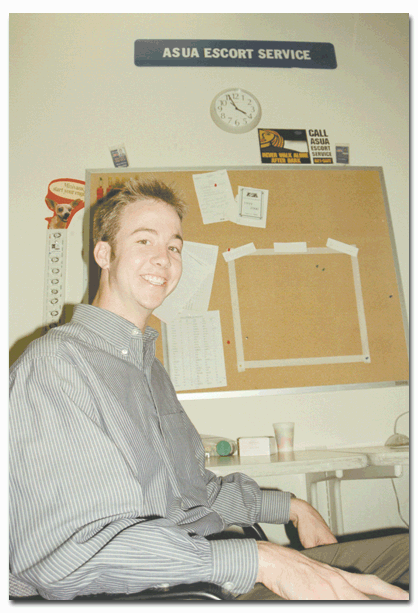 Matt Capowski
Arizona Daily Wildcat
Communication junior James Harrigan sits in ASUA Escort Service office late yesterday afternoon. Harrigan was appointed as the new director for the Escort Service and plans to work on improving the services.
by Ryan Bolin
James Harrigan wants to steer the ASUA Escort Service in a new direction.
"Since being with the service, I've seen different types of idiosyncrasies that could be fixed," he said.
Harrigan, a communication junior, was appointed as the new director for the Escort Service March 1. Harrigan was chosen after he submitted an application for the position, sat through several interviews, and received Senate approval.
He has been a driver for the service since August and got a crash course on the program before spring break from its current director, Rachael Reinhardt.
Tiffany Podbielski, ASUA senator and administrative vice president-elect, sat in on the panel interviewing for the director position. Podbielski said she is glad that Harrigan is behind the wheel of the Escort Service.
"He has a lot of good ideas," she said. "He's put a lot of thought into the future of this service. I've got complete confidence in Jimmy that he can do the job."
Podbielski said she plans to address many problems that have plagued the Escort Service since its inception five years ago. Podbielski said problems have ranged from budget underallocation and poor management to unexpected repairs and a need for newer equipment.
She has proposed several solutions and endorses corporate and police involvement.
"It's about sponsorship," she said. "There's no reason why the Escort Service and UAPD can't work together. If there's anyone the service should be partnered with it's them because it's about keeping students safe."
Harrigan said he hopes to utilize the extra parking spaces in the new UAPD location, East First Street and North Campbell Avenue, currently under construction.
"If the UAPD has extra space for our vehicles, we can increase safety and the chain of communication is shortened," he said.
Reinhardt, the Escort Service director since May, echoed Podbielski's concerns. Reinhardt said even the service's shuttle bus is not used anymore because of mechanical persistent problems
"We are too big a service to operate with the funds we get," she said. "That's been a problem all four years I've been here."
Reinhardt said she is stepping down for personal reasons. She was hired as a driver four years ago and has seen a drastic increase in the use of the service since then.
"When I started, we had 40 people we transported a night back in 1996," she said. "Now we drive between 200 and 300 students each night."
The Escort Service has had budget problems annually, but survived with "creative" financing. Unused money for events in other departments is re-allocated to meet financial needs, Podbielski said.
Reinhardt said future obstacles include increasing use of the service by students, installing more telephones lines, buying new vehicles, repairing old ones and expanding boundaries. They are also looking for more drivers.
Harrigan said he encountered some difficulties in implementing some of his initial proposals, but he has other ideas he wants to carry out down the road.
"Even though some of my ideas have been slapped down, I think I can still work on getting more cars for off-campus, have golf carts pick up random walkers, converting the golf cars to gas for longer use, and picking up more vehicles," he said.
The Escort Service offers transportation for individuals and small groups around campus and off-campus free of charge. The hours of operation are Sunday through Thursday, 7 p.m. to 12:55 a.m. The service can offer trips only within four blocks of campus.