Swan Song for 5 seniors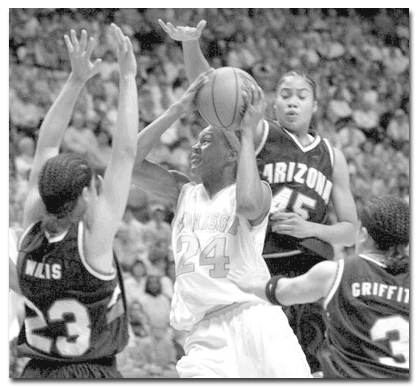 Arizona Daily Wildcat
KNOXVILLE, Tenn - Though Arizona was out-sized, out-ran and overmatched in the NCAA Tournament second round last night, an unrivaled spirit led the Wildcats in their season finale.
The eighth-seeded UA women's basketball team was knocked out of the tournament last night by top-seeded Tennessee 75-60, in a game that doubled as the swan-song for five Wildcat seniors.
Though Arizona trailed nearly the entire game, senior forward Tatum Brown said the Wildcats played with heart which was the essence of her team this year.
Enduring the fight against the six-time National Champions was essential for her final performance, Brown added.
"You can never give up, never," she said. "I think we did a great job fighting back and we didn't roll over. As soon as we stepped on the floor, we could have rolled over."
Once the game was over and, so too were the careers of guards Lisa Griffith, Monika Crank and Felecity Willis, and forwards Angela Lackey and Brown, it was difficult to discuss how much they would miss UA basketball.
"It is hard to think about right now because all the emotions are still inside," said Griffith immediately following the game.
Brown felt the emotion of it perhaps being her final game motivated her even more than just the idea that she was facing the Volunteers in the NCAA Tournament.
"The adrenaline was going, it was just flying out my ears because it could have been and is my last game," she said. "All the seniors were really excited just being here. It is emotional - last game, last time together."
Brown scored 11 points and collected five rebounds, most of which came after elbow-throwing battles with UT center Michelle Snow.
Arizona's offense came in spurts throughout the night, however. In the second half, the Volunteers built several leads of more than 20 points that Arizona persistently would cut to 12 .
"We just had trouble until our backs were against the wall and we started battling, then we did a pretty decent job," UA head coach Joan Bonvicini said.
Willis and sophomore forward LaKeisha Taylor fouled out and Brown added four fouls to complicate any streak that Arizona could put together.
"The second half was tough, we had a lot of fouls called, but we still battled," Bonvicini said. "I am proud of our players for how hard they played and how hard our bench played. Tennessee is just tough."
The toughest for UA was UT junior forward Tamika Catchings, who scored 21 points, grabbed eight rebounds and blocked four shots.
"Tamika Catchings is definitely, deservedly so, the best player in the country," Bonvicini said about the 2000 Naismith Player of the Year. "She is just so smooth and smart."
Griffith kept Arizona close to Tennessee in the first half by scoring 11 points (3-of-5 on 3-pointers) and was the only Wildcat to notch more than two first-half points. Arizona collected nearly no rebounds in the first 10 minutes, which was complimented by a dismal 2-for-10 performance from the free throw line.
"They were hitting from everywhere, a lot of different players were," Bonvicini said about Tennessee's first half shooting. "So, it is tough, there weren't a lot of rebounds to give when you are making a lot of shots. "
Catchings hit 7-of-12 field goals for 16 points in the first half to lead the Volunteers into the locker room with a 33-21 advantage.
"I don't think that I was coming out looking to score like that, but I was looking to move around and work into the offense with the team," she said.
Tennessee head coach Pat Summitt, who yesterday received the Naismith women's basketball Coach of the Century­ award was impressed with Arizona's tenacity.
"It was physical," she said. "One time, I just poured my water in my lap as I was watching them. Arizona's physical and they're aggressive, and we knew there would be a lot of bodies flying."
Brown said before the evening, she dedicated the game to her family and also to the younger players on the team.
"I want to show them that this is how you play every game and I wanted to leave that example of how hard you have to work if you want to go on," Brown said. "It's hard, but it is fun, I had a great time."
Though the five Wildcats leave Arizona, Bonvicini said that each player leaves a distinct legacy at the university, each of which she will miss.
"I knew going into the season, how much having senior leadership means to a team," she said. "They've just meant so much."