College student binge drinking on the rise, Harvard study says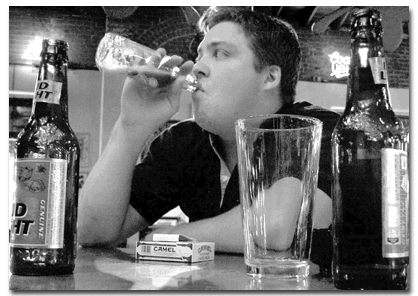 Arizona Daily Wildcat
Photo Illustration by DANIEL KEMPNER/Arizona Daily Wildcat Physics junior Nick Vassy drinks a beer in O'Malleys last night. A recent Harvard School of Public Health survey finds that binge drinking in colleges is increasing, and UA is no exception.
Binge drinking among college students is on the rise - at least according to a Harvard School of Public Health survey released last week.
Judging by the definition of "binge drinking" used in the Harvard study, half of UA students may be heavy drinkers as well, according to an informal Arizona Daily Wildcat poll. But UA health officials said such data is unreliable.
Of 100 UA students surveyed in the poll, 50 admitted to binge drinking - based on the Harvard study's standards.
The Harvard and Wildcat surveys define "binge drinking" as a man having five or more drinks in one sitting and a woman having four or more drinks in one sitting.
Carolyn Collins, UA Campus Health coordinator for alcohol and other drug prevention, said the definition of binge drinking is misleading.
"Someone could go out and have three or four drinks over a large time frame and it could have no effect on them because of their body weight," Collins said.
The study by the Harvard School of Public Health surveyed 14,000 students from 119 universities on binge drinking.
The survey, conducted last year, found binge drinkers are most likely to be white, live in fraternities and have a history of binge drinking in high school.
The Harvard survey also reported the population of frequent binge drinkers rose last year to 22.7 percent, up from 20.9 percent in 1997.
Collins said Campus Health does not use the phrase "binge drinking" because it's too deceiving, and instead classify it as "heavy drinking."
"Heavy drinking is down on our campus," Collins said.
A 1999 Campus Health survey of 1,766 random students showed 69 percent of UA students have four or fewer drinks in one sitting, Collins said.
"Most of our students are light to moderate drinkers," she added.
Collins said the low drinking percentages are the result of educating the student body about drinking norms.
Advertising that 69 percent of students have four or fewer drinks allows students to feel they don't need to drink to fit in, Collins said.
Collins said she believes the Harvard survey results are true, but she cannot say what the statistics are for the UA campus.
"Binge drinking is a concern. On our campus we've been very fortunate in seeing decreases in heavy drinking and a decrease in negative consequences as a result of alcohol," Collins said.
Twenty percent of undergraduates account for three-fourths of all alcohol consumed by UA students in any given week, Collins said.
This proves that only a small portion of students account for the majority of alcohol problems, she added.
Although the Harvard study defined "binge drinking" as five or more drinks for men, and four or more drinks for women, many UA students defined binge drinking as drinking to get drunk and most students thought the survey's limit was too low.
Christian Jason Bell, media arts sophomore, said five drinks in one sitting is too low to be labeled "binge drinking."
"It probably should be more, I don't think you'll pass out with five drinks," Bell said.
Sherry Burt-Kested, an environmental science senior, agreed.
"I just don't consider that binge drinking, I think that the number is too low," Burt-Kested said.
Although some students disagreed with the definition of binge drinking, other students thought heavy drinking was a problem.
Stephanie Berman, molecular and cellular biology freshman, said heavy drinking is a problem because people don't think when they drink.
"People don't do it safely, there are a lot of complications surrounding drinking," Berman said.
Jeff Roden, civil engineering freshman, said binge drinking is OK, as long as it doesn't dominate someone's life.
"(It is a problem) If it becomes your focus, you don't concentrate on doing anything else," Roden said.
Katie Oswald, speech and hearing senior, said she binge drinks and doesn't think it's a problem, as long as her school work isn't affected.
"I don't think its a problem as long as you keep up with your life," Oswald said. "I binge drink but I still get up and go to class."
And although the Harvard survey said most binge drinkers are white and live in fraternity houses, UA greek community members disagreed.
Bob Gordon, UA Greek Life coordinator, said these results could be deceiving because the greek system is more diverse than the student body and only one-third of fraternity members live in the chapter houses.
Mike Lee, a biochemistry and molecular and cellular biology junior, said binge drinking is not limited to white fraternity members.
"I think a lot of people from different demographics enjoy binge drinking," Lee said.
Erin Allen, a pre-physiological science freshman, said she can see why the survey classifies most binge drinkers as white because the majority of college students are white.