UA to focus on running game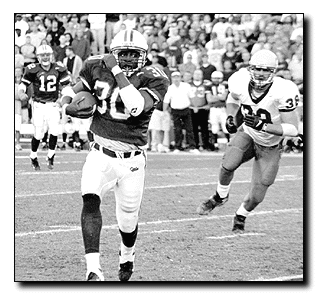 Wildcat File Photo
Arizona Daily Wildcat
Senior running back Trung Canidate makes a dash for the end zone in the 31-3 romp of the Oregon Ducks, last Halloween. Canidate has not been making dashes for the end zone this year, but he hopes his luck will change when the Wildcats host Middle Tennessee State this Saturday night.
In the wake of the Arizona football team's 35-31 come-from-behind win against Texas Christian on Sunday night, one thing remained clear for the Wildcats.
They still can't run the ball effectively.
Arizona (1-1) managed only 14 net yards rushing against the Horned Frogs. This from a team whose starting tailback, senior Trung Canidate, averaged 7.3 yards per carry all by himself last year.
"I'm real concerned about it," UA head coach Dick Tomey said. "But I feel a lot better about it than if we had played some not-so-good teams against the run. Evaluation on our running game will be after the season is over.
"I'm not surprised that we're having a little trouble running the ball. The good news is we've played two excellent teams against the run."
UA junior right guard Marques McFadden said the offensive line realizes how tough the TCU and Penn State defenses were, but that's no excuse in the long run.
"The last two weeks have been very frustrating," he said. "We're coming out there and pushing the ball down field and not executing like we should be. We should be getting up on these guys in the first half and let loose on them in the second half. All we've been doing is catching up."
McFadden said the line knows Canidate is getting frustrated with no holes being opened for him.
"I feel for Trung," McFadden said. "His net yards are something like 60 or 70. And we know that we've got to put more effort and have more pride and go out there and be physical."
Canidate knows that he needs to step his level of play up.
"I'm definitely frustrated from the standpoint of that I need to get it going," Canidate said. "The running game is a mentality and we have to develop that mentality to get it going."
Tomey said everyone should take the blame for the running game's struggles.
"We have a clear idea of the fact that we've got a lot of work to do," he said. "We're not running hard enough, we're not breaking enough tackles and we're not blocking hard enough. It's a group effort."
Canidate said he agrees with his coach.
"Every person on this playing field is who we need, from the guys on the bench to the starters on the field; it's like a brick wall and if one brick falls out of the wall, you've got to replace it," Canidate said.
The Arizona linebackers have a rather odd pre-game ritual.
They throw up.
That's right, the Wildcats' linebacking corps vomit before games because they are so pumped up, or so said senior DaShon Polk.
"I always throw up before the game," he said. "Me and (Marcus) Bell usually do, we have our own trash cans.
"I get caught up emotionally. I play the game in my head so many times before."
Polk missed most of the Penn State game because of dehydration. He had to have an IV to get his fluid levels back up.
"I was so zoned out I can't even explain it to you," Polk said. "I've only had one game like that when I was in high school and we were playing our rival and I couldn't remember any of the plays.
"I was throwing up before the Penn State game, sweating. I didn't get any sleep the night before. My legs were fatigued. After I got the IV and stuff I felt a lot better."
This past weekend Polk didn't throw up, and as a result he played almost the whole game against TCU and was second on the team with nine tackles.
Polk said rotating with senior Stadford Glover has helped him take a break every now and then, but as the season goes on he expects to see the bulk of the time.
For now, though, the UA coaches have decided on a rather interesting way to keep Polk's lunch down.
"I got a relaxation tape Coach (Rich) Ellerson gave me," Polk said. "Beach water and stuff like that. It calms you down. He tells me I never have fun and never smile and stuff. He said I'm just too tight up.
"He told me 'we were going to change you.' It's kind of cool."