Jefferson returning for at least 1 more year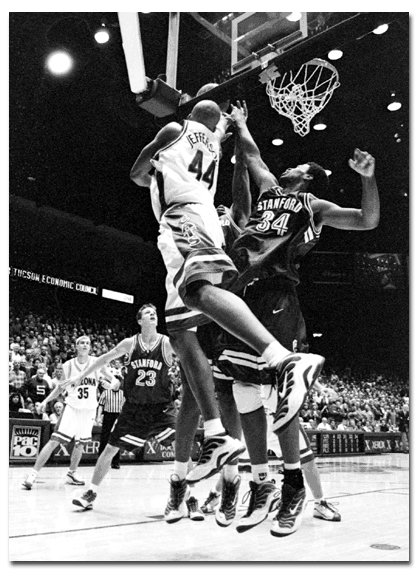 Arizona Daily Wildcat
After about a week of speculation, UA sophomore swing forward Richard Jefferson has announced that he is returning to the UA men's basketball team for his junior season, instead of entering the NBA draft.
Jefferson, who hails from Phoenix and played at Moon Valley High School, understands that he is not the complete player that the NBA is looking for, yet.
"There are still a lot of things I need to continue to work on, both on and off the court, before I will be ready to play in the NBA," Jefferson said in a press release. "When you look at the players we have coming back for next season, we have a chance to be a really good team and I would not want to miss out on that."
UA assistant coach Rodney Tention, who works primarily with the perimeter players such as Jefferson, said since a lot of players in the NBA are similar to Jefferson, he is going to have to work even harder.
"A lot of guys in the NBA are in Richard's mode, 6-foot-7 and athletic," Tention said. "Richard needs to work on all aspects of his game. He needs to be more consistent. He needs to work on his shooting, defense, footwork, and he knows that."
Jefferson, who missed 13 games this season due to a stress fracture in his right foot, averaged 11 points, 4.4 rebounds and 2.8 assists per game. He also shot 50 percent from the field, 43 percent from three-point range and 71 percent from the free-throw line.
Tention said the injury, which he suffered within the first four minutes of the Jan. 8 game at Stanford, severely set him back in his progress.
"It slowed him up a lot," Tention said. "He was making a lot of progress and the injury knocked him out for eight weeks. Your timing goes, conditioning goes and it just sets you back. But, he won't use that as an excuse."
During Jefferson's freshman season, he was an All-Pac-10 Freshman performer, while averaging 11.3 points, 4.8 rebounds and 2.9 assists per game.
While these numbers do not seem to be NBA caliber, another season of conditioning and experience could set Jefferson up for his dream, which is to play in the NBA.
"Since I was a little kid, it has always been my dream to play in the NBA, but that can wait for now," he stated in the press release.
Similar rumors about an early departure to the NBA have surfaced about junior center Loren Woods, but Tention attempted to put an end to them.
"I can't see any of the top guys not coming back," he said. "He (Woods) is a guy that isn't satisfied with how his season ended or how our season ended, so he and everyone else have a lot of unfinished business to take care of."
Woods, who missed the final eight games of the season with a back injury, is reportedly expected to meet with some NBA general managers before he makes his final decision of whether to stay at Arizona or declare himself eligible for the draft.