Controversial theater series comes to UA Centennial Hall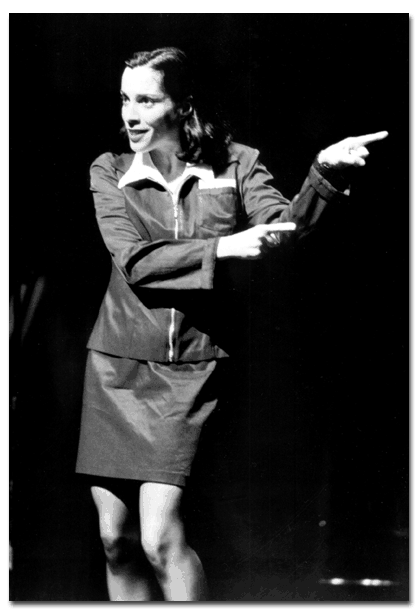 Arizona Daily Wildcat
UA Centennial Hall will change from a cavernous auditorium to an intimate theater this weekend, showcasing nationally acclaimed leaders in avant-garde performance art.
Beginning tonight and continuing through Sunday, the "Voices from the Margins" series will give students an opportunity to see four solo artists whose works seek to go beyond the limits of contemporary society.
"I became aware of these solo performing artists doing interesting work on the cutting edge," said Ken Foster, director of UA Presents.
In order to allow audience members closer contact with the performers, Centennial Hall has created a "Black Box" theater format. Rather than the full 2,456-person capacity crowd, only 250 seats are available for each show in this series.
"We put the audience and the performers all on stage, the house part is not used at all," said Ed Brown, director of operations for Centennial Hall.
A black curtain has been dropped around the stage and risers have been set up.
"It makes it a whole lot more intimate," Brown said. "The audience can see their faces."
All the performers' shows include mature content, and some include nudity, adult language and sexually explicit material. However, Foster was not worried about offending the audience.
"We are trying to be clear to people in advance about what it is they're getting into," he said. "You have to pay to get in, so you really have to elect to go."
One of these controversial artists is Holly Hughes, whose work surrounds both her life as a lesbian as well as her identity. When the National Endowment for the Arts revoked her grant based on her politics, she sued.
Consequently, her work, "Preaching to the Perverted," is about her experiences defending her art.
"The Supreme Court is the weirdest piece of theater I have ever been in," she said. "I questioned whether to represent them in my work, and they ended up as rubber duck toys with toothpicks stuck up their asses."
Hughes has been delivering original monologues for over 20 years, and in the early 1980s, she met Marga Gomez, another "Margins" artist in New York.
Gomez, who described herself as a "show girl," based her latest piece, "Jaywalker," on her life in Los Angeles without a car.
"Jennifer Lopez was breezing past me in a Lexus, and I was walking," she said. "The piece is about how the woman who pushes the walk signs makes all the traffic flow."
Unlike the biographical creations of Hughes and Gomez, Rinde Eckert's work, "Romeo Sierra Tango," draws on both literature and history. In this piece, the Shakespearean lover is taken from his tomb in Italy and thrown into the battlefields of World War I.
"I placed him there because I think of WWI as the end of innocence in modern time," he said. "We turned from a focus on ideals to the 20th century's recovery of those ideals."
By moving Romeo ahead 400 years, Eckert has given him a voice with which to speak in current society.
"Leaving Romeo in Renaissance Verona does not give us the language we need," he said. "It's closer to contemporary ethos to place him in WWI."
With his career beginning in 1980, Eckert has built a substantial body of work - 40 works of theater over the past two decades. However, he called Shakespeare his "ultimate challenge."
The fourth artist in the series, Danny Hoch, could not be reached for comment, but Hughes offered advice for anyone interested in the arts.
"Make work out of the content of your life," she said.