John Cusack's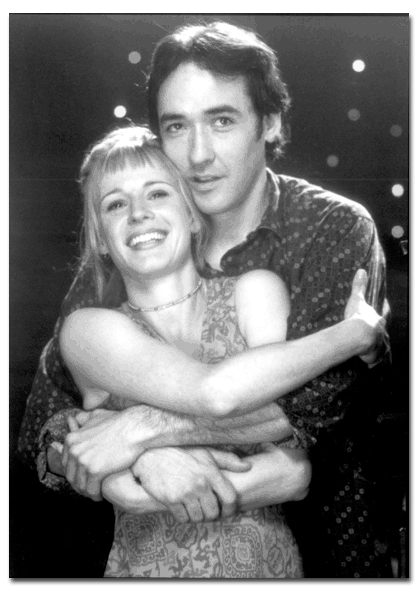 Arizona Daily Wildcat
John Cusack and Iben Hjejle deal with the ups-and-downs of relationships in the new Stephen Frears' romantic comedy, "High Fidelity." The film will be in theaters Mar. 31. Photo courtesy of Touchstone Pictures.
Romantic comedies have a exceedingly simple formula: put two people together who are seemingly made for each other and present an obstacle between them until, finally, they reunite.
"High Fidelity," a new romantic comedy starring John Cusack, utilizes this formula but manages a distinctly different feel than most films in the genre.
First of all, the movie does not present its two romantic leads - record store owner Rob Gordon (Cusack) and punk club-hopper turned legal aid Laura (Iben Hjejle) - as star-crossed lovers. In fact, they are breaking up at the film's opening.
This break-up turns out to be just one of a long series of break-ups that eternal loser-at-love Rob has endured throughout his life. His complete lack of self-confidence and inability to have a successful relationship continue to plague Gordon in his loves. This soon proves to be the obstacle that divides him and Laura.
"High Fidelity" also makes a departure from other romantic comedies in that it is actually funny - and not just a chuckly ha-ha funny. There are some truly riotous moments, especially from supporting characters played by Jack Black and Todd Louiso, two wacky binary opposites who work at Rob's record store, Championship Vinyl.
The movie, for the most part, progresses through its narrative at a rapid pace, aided by the humor and Rob's narration directly into the camera. The discourse with the audience is constant and appealing and keeps the viewer engaged in the movie.
Rob has an affinity for lists - derived from his unrelenting obsession with all things music, complete with their pop charts and record sales lists. He and his moron twin co-workers repeatedly make top five lists of everything imaginable, including Rob's five worst break-ups of all time.
It is this list that lends structure to the movie as Rob introduces the audience to his relationship failures for the first part. He later rediscovers his confidence as he reunites with each one of these lost lovers years later.
These musings provide an interesting viewpoint on love and dating and relationships in today's world - but also allows for some cool cameos.
Catherine Zeta-Jones plays Rob's ideal woman, whom he lost to a pretty boy named Marco. Cusack's "Say Anything" costar Lili Taylor plays a friend who is also on the rebound - who also ends up dating and rejecting Rob. However, she also ends up rejecting him. Tim Robbins, Natasha Gregson Wagner and Sara Gilbert also play minor roles.
"High Fidelity" presents an engaging story of a man coming to terms with his romantic past and acknowledging that the ideal woman, life and everything else are simply illusions.
Rob's journey through his romantic troubles is one from self-loathing (which few actors do better than Cusack) to emotional maturity. Thankfully, the movie portrays his growth with levity and honesty, keeping the movie away from the angst inappropriate for a romantic comedy.