Mosh pit injuries and alcohol poisoning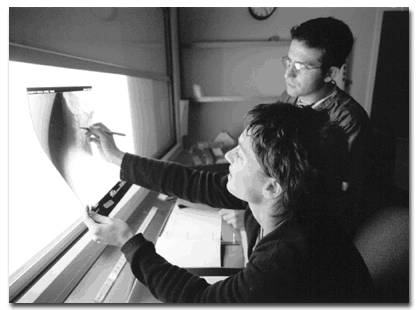 Aaron Farnsworth
Arizona Daily Wildcat
Senior resident Dr. Timothy Coury and radiology resident Stella Kahn look over Autumn McCurtain's cervical x-rays.
Editor's Note: This report offers a glimpse into a late night at UMC's emergency room.
A mosh pit accident brought Autumn McCurtain to UMC's emergency room Thursday night.
McCurtain, 18, suffered back and neck injuries at the Powerman 5000/Static X concert at the Rialto Theater when a 200-pound man fell on her. She said she didn't even see the man who fell on her until it was too late.
"It was about 20 minutes before the concert ended," she said. "This huge like 200-pound guy got thrown up and he landed on my neck."
"My neck snapped forward and I lost my breath."
McCurtain was taken to UMC after the concert ended, at about 10:30 p.m.
"She definitely strained muscles in her back and injured the ligaments in her neck, but there's always the possibility she broke some bones," said Tim Coury, a senior resident at UMC.
At almost 2 a.m., McCurtain was still in a lot of pain.
"The morphine they gave me isn't working too well," she said. "I still have feeling everywhere but I hurt."
McCurtain was one of few trauma cases. Coury apologized because the emergency room was so quiet.
"We've got a full board tonight," Coury said. "But most of the people are just health-problem cases - there's not a whole lot of trauma cases tonight."
One man in particular kept the UMC staff busy. Unwashed, he contrasted sharply with the ambient sterility of the hospital. Coury said that he was being cared for in the hall so that staff could keep an eye on him.
Christine Pasquet, a staff nurse at UMC, described the man as a regular.
"We have regulars like this," said Pasquet. "If they're not here there're at St. Mary's (Hospital) or somewhere else. We tend to get a lot of the indigent population because we have a lot of residents so we have some extra hands."
The man, who was only identified as Ed, was being monitored for alcohol poisoning and schizophrenia, Coury said.
"His blood alcohol content is 0.28, which is almost three times the legal limit for being drunk," Coury said. "This guy is handcuffed to the bed because he's violent and presents a safety risk."
The University Medical Center has become one of the favorite health care facilities because of it's breadth of coverage, Pasquet said. Being a university hospital, it provides many advantages to its patients.
"University ER's run differently than those in the private sector," Pasquet said. "All of the specialties have their residents in-house all night, so it's not like in the private sector where the ER doctor has to wake the private doctor up at home and the private doctor has to make decisions.
UMC is a Level I trauma center, equipped to handle any trauma case, and is required to have emergency services, general surgery, neurosurgery, and anesthesiology services and physicians available in-house, 24 hours a day.
"Just about anything you could need is here," she said. "We do anything you could need for pediatrics; the cancer center is just excellent, and a lot of research goes on here, too."
"It's usually hectic because people know this is the place to be."