Men's swimming and diving fall short of NCAA title.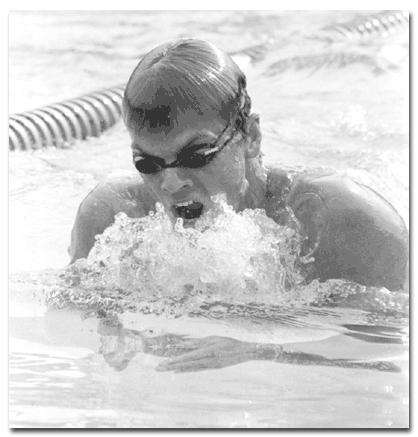 Wildcat File Photo
Arizona Daily Wildcat
Senior Ryk Neethling swims the breaststroke during a recent practice at Hillenbrand Aquatic Center. Neethling won two individual titles during the weekend - giving him nine in his career - at the NCAA Championships, where Arizona finished third.
Arizona's dream of bringing home the school's first NCAA men's swimming title was shot down this weekend as the Wildcats lacked the manpower to overtake the top-ranked Texas Longhorns.
The Wildcats accumulated a score of 360.5, which was 177.5 points behind Texas and 24.5 points behind the second place Auburn Tigers.
Arizona's third place finished was a school best, the Wildcats placed fourth in 1993.
"We did better than I thought we would do at the beginning of the season, senior Matt Allen said. "Everyone swam their fastest and gave it there all."
The star of this year's NCAA Championships was not UA senior Ryk Neethling as most expected, but Ed Moses, a freshman from the University of Virginia.
Moses was awarded the "swimmer of the championship" after breaking two world records in the 100- and 200-meter breaststroke events.
Perhaps the biggest surprise of the championships came Saturday, when Neethling, one of the most decorated athletes in NCAA history, was upset in the mile freestyle by Erik Vendt, a freshman at Southern California.
Neethling ran out of gas and finished third, more than eight seconds behind Vendt.
Neethling, who flew to South Africa immediately after the meet for his native country's Olympic trials, was unavailable for comment yesterday.
His teammates, though, said Neethling looked uncharacteristically out of place.
"I was very surprised that he lost. I have seen him swim hundreds of times and he did not look himself," junior Jay Schryver said.
Instead of being bitter about the defeat, Neethling showed his sportsmanship by congratulating Vendt on his victory.
This upset ended Neethling's attempt at 10 career national titles, which only two other swimmers have accomplished in the history of NCAA swimming.
"This race showed what a great guy he really is," Allen said. "He is a great competitor and more than all of his titles, his character will be remembered the most."
Arizona senior Nat Lewis finished fifth in the same race.
The Wildcats knew they needed to win all of the close races in order to pull off the upset. Unfortunately for Arizona, this didn't happen.
"We wanted to win, but we knew that we needed to win the close races and get help from other teams," Schryver said. "We are proud of our performance because this was the best showing in school history."
Sophomore Roland Schoeman, who was favored to win two titles, lost both races by fractions of a second. In the 50 freestyle, Schoeman clocked in with a 21.22, which was a world record time, but California freshman Anthony Ervin won the race with a time of 21.21.
This race was a possible Olympic preview in Sydney, Australia this summer.
"Roland swam really fast and he broke the record twice, but it was just one of those days," senior Rob Henikman said." On any other day he would have been the fastest swimmer in the world."
UA head coach Frank Busch said prior to the championships that the relays were critical if the Wildcats were to make a run at the team title, but the 400- medley relay team fell short.
The medley team finished seventh as Texas placed first
Arizona's 200 free-style relay team, though, swam in world-record speed with a time of 1:26.74, but it was good enough for third as Auburn won the race with a time of 1:25.14.
From top to bottom, this meet was the fastest in the world. The short course World Championships took place last week in Greece, and not one of the winners there would have been victorious at the NCAA Championships.
"I was not surprised at the times recorded at this meet because we all wanted to compare ourselves to the World Championship times from a week ago," Henikman said. "We all saw what the world's best was and it gave us a little extra boost. "