Defending home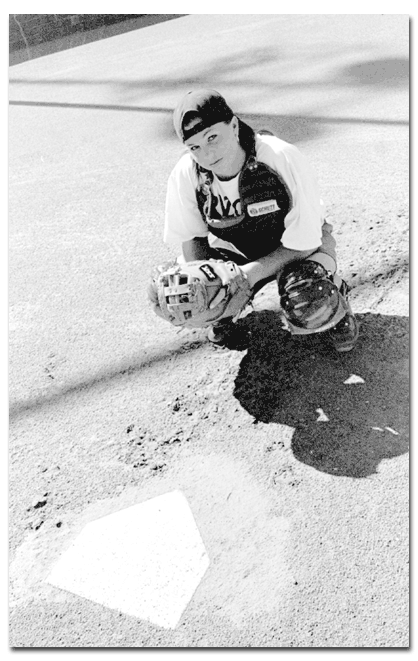 Arizona Daily Wildcat
There is a difference in Lindsey Collins this season, though it isn't noticeable by looking or talking to her.
She stills has an intimidating aura every time she steps on the field and still has what teammates on the UA softball team call her "nasty side," but the junior catcher's outlook on life has changed.
"Maturity, I guess, I don't get frustrated, I don't talk bad to myself and I am just more focused," Collins said. "Actually, a lot of it had to do with my mom."
Collins' mother, Janet, was diagnosed in September with cancer in her left breast, an incident that has taken her daughter's view of life and turned it upside down.
Life isn't as care-free anymore for Collins as she was forced to grow-up and become a responsible woman in a matter of months.
"She values life more and looks at things very differently," Janet Collins said. "She was very supportive and acted very maturely and gave me great advice for a girl her age."
While her mother was battling cancer, Collins made trips home to Fountain Valley, Calif., and kept in constant touch with her mother and helped her make some very crucial medical decisions.
The largest of these decisions was whether the elder Collins would get a mastectomy, which is the removal of the breast, or a lumpectomy, which removes only the cancerous lump in the breast.
"I told her to get a mastectomy, it reduced the fact of the cancer coming back and that was a huge decision," Collins said. "I kind of took life for granted and I watched my mom fight through it. I thought my mom was strong but I never saw her that strong, honestly, I didn't think she was that strong."
While sharing in her mother's battle with cancer, Collins was able to forge a deeper and more intimate friendship with her mother.
"You never think anything bad would happen to your family, it did and it was just weird because I kind of had to grow up in a sense and be there for my mom and that's like a really big responsibility," Collins said. "My mom is like my best friend now."
A new outlook
Using her mother's battle with cancer as inspiration, Collins began training in the fall with a new found focus and meaning.
Throughout the six weeks of fall training, Collins kept pushing herself through running sessions that she described as "hell" by reminding herself to "do it for my mom, do it for my mom."
"I think it was a big eye-opener and she is realizing what is important in life and I think that was more of a motivator for her, working hard and playing everyday like it is her last," senior outfielder Chrissy Gil said. "It's difficult playing, being a full-time student and worrying about your mom and she is totally good about it. I don't know what I would do and she's just kind of overcome all of that and you can see it, you can see it when she plays, you can see it when she walks down the street."
Collins new-found focus has allowed her to excel on the field this year, as she is having a career year for the No. 2 Wildcats at the plate and has played flawless defense.
Batting all season in the fifth spot in the lineup, Collins has set a career high in RBIs with a team-leading 41 in just 37 games. Her previous high was 38 in each of the previous two seasons.
Collins is also batting a robust .364 with nine home runs and 32 runs scored.
"I think she is a really good hitter and her power means a lot to the team," junior outfielder Nicole Giordano said. "The fact that she is the only catcher puts a lot of pressure on her I think which she has handled really well, being able to catch every game, so I think she has done a good job.
Her most impressive statistic, is not an offensive category however.
Collins has been perfect in the field, not making an error in 327 chances this year. This has helped pitchers junior Becky Lemke and sophomore Jennie Finch to be more successful, knowing they have one of the best defensive catchers in the nation calling their games.
"I feel really confident pitching to her just because I know nothing is going to get by her, even if it is in the dirt she is going to knock it down in front of her," Lemke said. "I can throw anything to her and I know she is going to frame it, plus she has got that nasty attitude and I love it."
Collins has also thrown out four of the seven runners who have attempted to steal on her.
The Nasty Side
Catching for Lemke and Finch has been a privilege for Collins.
"I have so much confidence in them that every time a batter comes up I am like, 'Oh, I am sorry you have to come up against us', because they strike so many people out that you can't hit them," Collins said. "You kind of throw it in their face because when someone strikes out it gets you so pumped up, it's like, 'Yeah, in your face, in your face, you can't touch our pitchers,' so it's awesome."
The "in your face" attitude is the one thing that has continued throughout Collins' three years in the UA softball program.
Being one of the more reserved members of the team, Collins would rather lead by example, displaying her physical play or intimidating opponents with her presence behind the plate.
"I am a total bad ass. I am the one that talks the most (expletive) on the team towards other players," Collins said. "When girls come into home and when I take out a player at home it pumps our team up so much and they love it."
Not only does the team love Collins nasty demeanor on the field, but they love her presence off the field as she is constantly jabbing and rough-housing with her teammates.
"She is just a very aggressive person, when she sees you she will give you a little punch in the arm, she's just aggressive," junior third baseman Toni Mascarenas said.
Family Atmosphere
Collins has also had the luxury of being on a team with a close-knit group of players that have helped her in dealing with her mother's illness while also trying to focus on school and softball.
"They are like my sisters, I can always depend on them, we hang out every night together, I don't ever get sick of them and two of my roommates (Lemke and junior shortstop Allison Andrade) are on the team so I see them every single day of my life and it doesn't bother me, " Collins said.
Even more important than her teammates, though, is her family and all she has to do is look up into the stands during a game to see her parents smiling down on her.
Lanny Collins, her father, and a recovered Janet try to make it to every Arizona game, logging many miles to cheer on their daughter and her UA teammates to victory.
"I love the U of A program and have a wonderful and full respect for coach Candrea," Janet Collins said. "We got to as many games as possible and my husband has the credit card bills to prove it."