CCP exhibit chronicles Arizona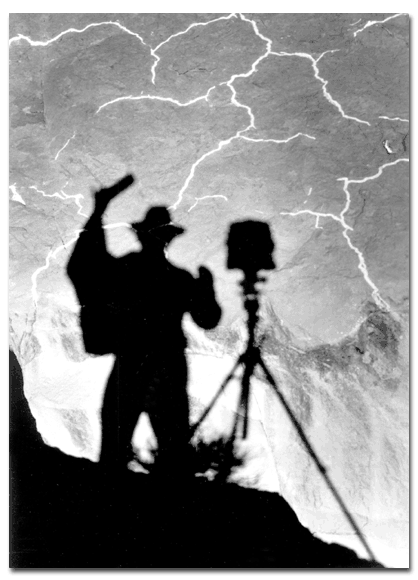 Arizona Daily Wildcat
Photo courtesy of the Center for Creative Photography Copyright: Trustees of the Ansel Adams Publishing Rights Trust "Self-Portrait, Monument Valley, Utah" shows a more adventurous and comical side to Adams' typically serene and expansive style. The photograph is part of a larger exhibit at the Center for Creative Photography, which celebrates the 75th anniversary of Arizona Highways Magazine.
The landscapes of Arizona and its immediate surroundings have become a rich and provocative subject for three photographers who have been widely published in Arizona Highways Magazine.
The show, "Arizona Highways: Celebrating the Tradition, The Photography of Ansel Adams, David Muench, and Jack Dykinga" was established between the Phoenix Art Museum, the University of Arizona Center for Creative Photography and Flagstaff's Museum of Northern Arizona to commemorate Arizona Highways Magazine's 75th anniversary.
Ansel Adams headlines the show at the CCP with a selection of predominantly black and white images of expansive landscapes and Arizona's historical sites.
Adams' photographs bring clarity to the smallest details in a landscape. These works have the serene, stable and timeless quality that has gained Adams notoriety and respect in this genre of photography.
Perhaps most startling are his close-up images of historic sites like San Xavier Mission del Bac and his portraits of Papago and Navajo people. These images capture an Arizona in transition with the rich textures of worn and damaged sites and contrast much darker than that of his landscape work.
Jack Dykinga, a local Pulitzer Prize-winning photographer, joins the exhibit with his color prints which focus on the visual rhythms of natural sites. His attention to surface pattern and at times a flattened ambiguous space give his prints a musical quality.
The images portray densely vegetated landscapes with pastel-like color, a sharp contrast to Adams' desert scenes.
Works like "Agave" focus on the surface texture created by the plant's leathery skin and dramatic color gradations. Bright fall colors are divided by the dry and dark thorny edges of the leaves.
In "Paria River, Arizona," dark sand shaped by evaporated water creates a flat decorative surface in the lower half of the photograph while cliff walls recede dramatically in the upper half. Such examples of semi-ambiguous space are dealt with in a bold and crisp manner.
"Stone Canyon, Arizona" is one example of disorienting space created by the reflection of deeply recessed cliffs in water. This gives the work a feeling of natural collage, a collage of vision.
The subtle lines and reflections in contrast with the deep recesses give the works a remarkable dream-like quality.
Dykinga's works range from rhythmic studies of the age-long deterioration to remarkable atmospheric shots such as "Lightening and Rainbow, Organ Pipe Cactus National Monument."
David Muench joins the show and explores the dramatic effects created upon foreground and background space by penetrating barriers of natural rocks and buttes.
The works encompass a vast range of distances. Some cover almost unreadable spaces, as in "White Canyon, Utah," where the heavy stone walls take on a feathery translucent quality. Others like "Moonrise, White Mesa Arch," look at natural formations framing a distant landscape and atmosphere.
David Muench's work bonds Adams' stable black and white photography with Dykinga's more fluid and brilliantly colored flat spaces.
His work, "San Francisco Peaks, Petroglyphs, Arizona" present a view from inside the entrance of a cave. The cave walls present a flat foreground surface while through the entrance a mountain landscape resides, hundreds of miles away.
The contrast of hot red interior space with cool blue exterior space give the work a collage quality that is truly awe inspiring.
The show focuses on the mystery and beauty of Arizona's natural spaces but the success lies in the three distinct personalities and approaches to this vast subject.
The exhibit runs through Apr. 9 at the CCP.