The long road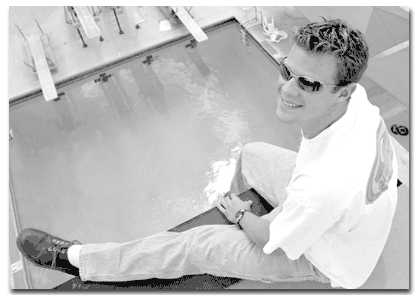 Sarah Brown
Arizona Daily Wildcat
UA junior diver Arno Bergstrom poses for a picture at Hillenbrand Aquatic Center on Tuesday. Bergstrom was captain of the diving team as a junior and has earned a scholarship for next season after three years as a walk-on.
Commitment, hard work, determination, excellence. These words describe what it takes to be a success in today's world.
These are also the words that fellow teammates and coaches use to describe UA junior diver Arno Bergstrom.
"Arno is the most dedicated, hard worker on our team," senior Andrea Glass said.
Bergstrom was not always the main focus as he struggled throughout high school. In order to be recruited to a Division I school, divers must partake in nationally recognized tournaments and Bergstrom only competed in two.
"In high school, I was not very good," Bergstrom said. "My high school coaches told me that I did not have what it takes to dive for a Division I program. They felt I could not do better than a Division II program."
In order to continue his diving career, Bergstrom and his father put together a recruiting video and sent it to 10 schools.
"We did not have much footage of him diving, so we had to go out and video special sessions at the local diving facilities," said his dad, Arno Bergstrom senior.
"I did not want to quit. I loved swimming too much," Bergstrom said.
A long shot
After sending away all of his recruiting tapes, Bergstrom's father traveled on a business trip to Tucson and he mentioned to him that he should give Arizona a chance.
"I was so impressed by (UA head diving) Coach ( Michele Mitchell-) Rocha and the university," Bergstrom's father said. "As a parent, I knew that this is where I wanted him to go."
Bergstrom called Mitchell-Rocha to say he was coming to visit the diving program but she told him the UA could not offer him an official visit because he was not a possible scholarship athlete.
This did not damper his spirits.
"When I stepped off the plane, I got a good vibe about Tucson," Bergstrom said.
After Bergstrom's visit, he was given the "thanks, but no thanks letter," which explained that there were no scholarships left.
Mitchell-Rocha did tell Bergstrom that he was welcome to join the team as a walk-on, but that she believed he did not have what it takes to be an Arizona diver.
"When he joined the team in 1997 his ability was not very high," Mitchell-Rocha said. "I did not think he could handle the rigorous daily training of a Division I program."
So Bergstrom was a member of the team, but one without a scholarship.
First in, last out
From the day he arrived at UA, though, Bergstrom was not intimidated by all of the talent that surrounded him at the pool.
He realized what it took to bring his diving to a new level through the coaching of Mitchell-Rocha.
Each day Bergstrom was the first person at practice and the last one to leave, practicing with the team for around five hours, he would then put in an extra hour or two each day conditioning in the weight room.
"Arno has an awesome work ethic," junior Lindsay Berryman said. "Everything about him motivates the rest of our team. He makes you want to go out each and every day and work harder and harder."
All the hard work started to pay off last summer as Bergstrom placed 13th at the U.S. Outdoor Senior National Championship's in Woodlands, Texas.
Bergstrom, who was overlooked by so many coaches, was able to use the meet as a stage to show all the coaches what they missed out on when they decided to ignore his recruiting tapes.
After his surprising performance at the competition many coaches approached him, giving excuses to why they did not respond to the recruiting tapes he had sent two years earlier.
"The Missouri head coach Patrick McCord told me that he was switching secretaries at the time," Bergstrom said. "Other coaches said that they lost my tapes."
Still, after the impressive performance at the Championships, Bergstrom was without a scholarship.
From walk-on to captain
Bergstrom continued his success at the start of this past swimming and diving season as his teammates named him captain of the diving team as a junior.
"He is a great captain because he has great leadership qualities and everyone on the team, including the seniors look up to him," Berryman said.
This recognition from his teammates showed how far he has come in his diving career.
"As captain, Arno carried the team," Glass said. "He is a huge motivator because for every race he is alongside the pool cheering on each member of our team."
Mitchell-Rocha said even more impressively is that most diving captains at UA are usually seniors.
"Being captain made me realize that all of my hard work has paid off," Bergstrom said. "This made me realize that hard work does pay off in the long run."
Finally a scholarship
Not all has been easy this year for Bergstrom, though, as he has overcome a variety of injuries that included broken sternum, torn ligaments in his thumb, a broken ear drum, and chronic back problems that have altered his training program and performances drastically.
Fighting the nagging injuries, including a broken thumb, Bergstrom saw his performance slip but still kept a positive attitude.
"If my arm was broken, I would do as many leg exercises as possible," Bergstrom said. "I do whatever it takes to improve. When I am hurt, I visualize my dives and talk them out with Michele. When I see my teammates practicing hard, it motivates me to come back even stronger."
Bergstrom even dove in this year's Pacific 10 Championships, though he had a broken sternum.
"He has had hundreds of injuries, and it is amazing that he has overcame all of them successfully," Mitchell-Rocha said. "He has an incredible mind strength to overcome all of these injuries."
With all his continued success and dedication, the hard work has finally paid off for Bergstrom, as he will finally be a scholarship athlete for the 2000-2001 school year.
"Being that our men and women are a ranked in the top three or four, scholarships are fierce," Mitchell -Rocha said. "They are given to proven athletes and Arno was not a proven athlete as a freshman. Through his hard work he has earned his scholarship for the upcoming season."