UA students speak out against tuition hike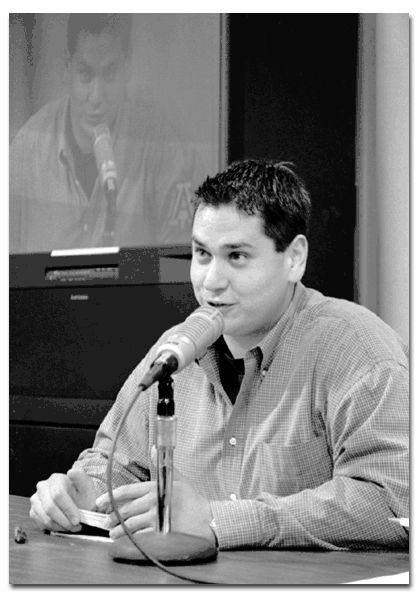 Aaron Farnsworth
Arizona Daily Wildcat
ASUA President Cisco Aguilar speaks out on behalf of students against possible tuition hikes for the upcoming academic year. ASUA members, faculty and staff participated in a live teleconference with ASU and NAU today concerning the proposed tuition increases.
Several UA students said last night they want next year's tuition to raise no more than three percent and that the Arizona Legislature needs to provide more funding to the three state universities.
About 25 University of Arizona students attended a two-hour public hearing in the Harvill building to voice their opinions about proposed tuition increases.
The Arizona Board of Regents, the governing board of the three state universities, is scheduled to set next year's tuition rate at its Apr. 6 and 7 meeting at Northern Arizona University.
Students from the UA, Arizona State University, NAU and their branch campuses provided testimony about the increases that was broadcast through interactive television. The university presidents, student body presidents and members of ABOR were present at the different locations.
UA Associated Students President Cisco Aguilar said he supports a tuition increase of three percent to be used for technology information and faculty salaries.
Aguilar said students have to pay more money because the Arizona legislature has not provided enough funding.
"I don't think the budget shortfall should fall on the back of students," Aguilar said.
UA President Peter Likins has proposed raising next year's tuition by 4.6 percent for in-state residents, an increase of $101, and by 4.3 percent for out-of-state residents, an increase of $389.
Likins said he wants $9 of every in-state increase to be used for financial aid, $46 to be used to expand information technology - such as hardware, software and consulting systems - and $46 to increase faculty salaries.
"We struggle to find some kind of balance, and I believe in this environment that $100 increase is an appropriate balance," Likins said at the beginning of the hearing.
Likins added that the Legislature's two percent employee salary raise has pressured administrators to find funding. He said the raise will not occur until this month, even though the fiscal year begins in July.
He said Arizona universities are competing with other universities in the nation and UA has the 49th lowest tuition rate in the country, tied with Nevada. Only Florida's rate is less expensive.
"We live in a national marketplace," Likins said. "It's relevant that the revenues we use to conduct our affairs are vastly less than our competitors."
He added that most other universities' average tuition increase is $150. Arizona universities have increased tuition by about $100 in each of the last two years.
"It is a realization that we will fall further behind," Likins said about his $101 proposed increase.
Likins added that operating the UA costs $900 million a year and Arizona students' tuition accounts for only $30 million a year.
"What Arizona residents provide in tuition is three percent of what it takes to run this place," Likins said in a post-hearing interview.
ASU President Lattie Coor wants to boost in-state tuition by $100 and out-of-state tuition by $350.
NAU President Clara Lovett wants out-of-state tuition to rise by 4.8 percent, an increase of $400. Lovett wants in-state tuition to rise by $100.
Ben Graff, ASUA president-elect, said the Arizona Legislature is responsible to provide more funding to the three state universities.
"It's time for you to pay for the education that you say is so important to you," said Graff, referring to the state Legislature.
ASUA Sen. Ray Quintero said the tuition discussion should be about how to make education a priority in Arizona.
"We don't feel the weight should fall completely on our shoulders," Quintero said.
Gloria Monta–o, a UA Mexican-American studies senior, said she is the first in her family to attend college
"Having multiple jobs, I've not been able to put college at first priority," Monta–o said. "It does not happen when you have to work."
She said raising tuition would give members of the elite class more opportunity and cause the students with less money to work harder.
"Make sure to give education to all people, no matter what their status is," Monta–o said.
Colin Shedd, UA economics business senior, also said he supports a three percent tuition increase.
He added that he works and takes a full schedule and is about $10,000 in debt.
"If tuition goes up, I know wages won't go up with it," Shedd said. "I know students like me will be working more hours."
After the students voiced their opinions, Regent Kay McKay said her board will listen to their words.
"I'm so please with so many students talking about us working together and working with the state Legislature," she said.
Likins said after the meeting that he realized students need more financial aid.
"My response, as a human being, to this testimony is we need more and better financial aid," he said.