4 lacrosse powers collide in Michigan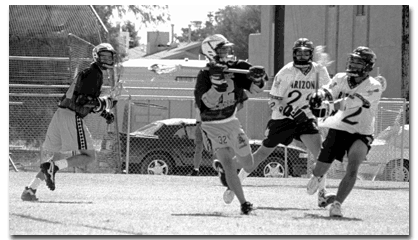 Casey Dexter
Arizona Daily Wildcat
The No. 9 Arizona Laxcats head to Ann Arbor, Mich. for the Michigan Invitational - a three-game series against some of the best lacrosse teams in the nation.
Competing at the tournament will be host University of Michigan ranked 7th in the latest polls, No. 6 Virginia Tech and No. 12 Illinois.
"This tournament is going to be a great opportunity for us to get some experience and help us prepare for the National Championships if we get invited," Laxcat head coach Mickey-Miles Felton said.
The games this weekend will not only influence the polls, but could have a major impact on the seedings for the National Championships in St. Louis, Mo. in May.
"With four top teams in one place these games will draw a lot of national attention," Michigan head coach John Paul said. "Since these games will be in the spotlight they will have more effect on the polls."
The Laxcats, who are 7-3 overall and 4-0 in the Western Collegiate Lacrosse League, will be heading to Michigan on a high note after a convincing 25-3 defeat of Northern Arizona University on Saturday in Tucson.
Tonight, the Laxcats will take on the Fighting Illini from Illinois who are 8-2 overall.
"My philosophy (against Illinois) is to put our game together and have them worry about us," Felton said. "I think we will be able to take advantage of their over-aggressive defense."
Tomorrow, the Laxcats play Michigan (9-3 overall), in front of a crowd that could reach capacity of more than 1,000 people.
Last year, the Laxcats were stunned by a second half comeback against Michigan and ended up losing to them by a score of 14-13 in overtime.
"Arizona's strength's are their big experienced defenders," Paul said. "Their defense definitely jumped out against us last year."
On Sunday, the Laxcats take on 10-1 Virginia Tech who is the only team competing from the East Coast.
"Since they (Virginia Tech) are from the East Coast they do not know the advantage of playing with a team concept of the game," Felton said.
Laxcat sophomore goalie Greg Parkington, who returned last week from a broken hand to play in the second half against NAU, might see some action this weekend.
"It will be a gut feeling," Felton said. "It will all depend on if my gut tells me if I can put in Greg versus Illinois."
Now the Laxcats have the luxury of having two goalies, which will be especially helpful playing three games in three days.
"We need to play with intensity and be mentally prepared," Felton said. "We are playing a lot of late games and we really need to be prepared to do that which is going to take a tremendous effort."